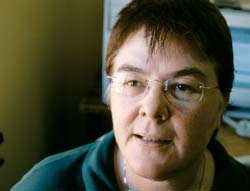 Finding balance: Prof Joan Hambidge has been appointed as the new Deputy Dean of the Faculty of Humanities.
Her appointment as Deputy Dean of the Faculty of Humanities early last month and its associate administrative load, says Professor Joan Hambidge, is in no way going to taper her creative output as writer and poet. Instead, it will allow her to immerse herself in the full experience of life at a major South African university.
Hambidge took over watch from former incumbent, Associate Professor Lesley Marx of the Department of English Language and Literature, shortly after being included in the National Research Foundation's (NRF) first corps of rated scholars in the humanities. She will serve as Deputy Dean for the next three years.
Involvement in university administration comes as nothing new to Hambidge, who over the past few years has served on the Humanities faculty board overseeing the assessment of theses and other GRAPRO (graduate programme) matters. Her new portfolio will include a focus on graduate affairs, but will also require her to keep an eye on information technology issues in the Faculty.
In addition, she will continue to serve as acting director of the Graduate School in Humanities' creative writing programme.
Her own creative writing will continue unabated, Hambidge affirmed, pointing to the many manuscripts - which includes the one for her first English novel, Chinese Box - scattered around her desk. Renowned as one of South Africa's most prolific writers (nine pieces from her oeuvre of 16 volumes of poetry, four novels and an Internet novel were published during her 11-year tenure at UCT), she sees no reason why her literary stride should be checked, she said.
Her appointment as Deputy Director does, however, provide her with the opportunity to repay the University in some way for the creative environ it has provided her over the past decade and a bit, Hambidge added. "I see this as a chance to give some of my skills back."
Her time serving on the faculty board has also provided invaluable insights into the workings of a university. "It's fascinating work, because it helps you understand the principles and problems of administration, and to see the bigger picture."
Hambidge prides herself on her work ethic, making sure that paperwork is dealt with promptly. In stark contrast, she hopes, to the practices of poet-cum-Wits University administrator NP van Wyk Louw who, according to one popular legend, assigned all documentation that came his way to the waste paper bin behind his desk on the premise that if a piece of paper contained anything of import, someone was sure to call attention to it again.
"This is a balancing act," Hambidge commented, "between being an artist and being a good manager."
---
This work is licensed under a Creative Commons Attribution-NoDerivatives 4.0 International License.
Please view the republishing articles page for more information.
---