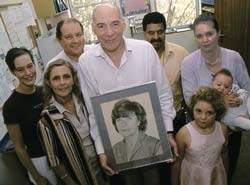 History in the making: Among those at a recent function where the Department of Historical Studies received a photograph of former lecturer Marie Maud were, back row, from left: Janice Bleazard, Assoc Prof Richard Mendelsohn, Mohamed Adhikari, and, front row, from left, Daphne Jubber, Prof Robin Cohen (with the photo) and Celia Economu with children, Marie and Stephanos.
Marie Maud, remembered by colleagues and former students as one of the most colourful lecturers to grace UCT corridors and teaching venues, served as the cynosure of a recent gathering of staff and students of the Department of Historical Studies.
The occasion was the annual conferring of the department's batch of class medals and prizes, the latter including the Marie Maud Memorial Book Prize. This year's ceremony was also marked by the receipt of a photograph of Maud, bestowed to the department by Daphne Jubber, who served with her on the Women's Movement for Peace, a Cape Town human rights organisation.
"Marie was larger than life, and larger than death - this photograph is too good and too valuable to spend its life in my cupboard," said Jubber in handing over the print. Among those to celebrate the event was Maud's daughter, Celia Economu, and young grandchildren Marie and Stephanos.
The chain-smoking Maud - a feature that comes up in everyone's recollections of the charismatic teacher, as did her love of a regular cup of tea - lectured in the department in the 1960s and 1970s. She was killed in the early 1980s in a hit-and-run accident in Guguletu while working there as a member of the Women's Movement.
"She was one of the most memorable characters that I've encountered at the University," said HOD, Associate Professor Richard Mendelsohn. This sentiment was echoed by a number of those in attendance, including former student Mohamed Adhikari, who now lectures at UCT.
The department established the memorial book prize soon after Maud's death, electing to confer it on the most promising student - an area close to Maud's heart - explained Mendelsohn. The prize was awarded to Janice Bleazard this year.
In tribute to "teaching present", as Mendelsohn put it, the department also used the gathering to launch its first edition of Historical Approaches. This volume holds a collection of essays by 2002 third-year students, material that, according to Professor Nigel Worden, would deserve a place in any academic journal, national or otherwise.
"The point of producing this," Worden told contributors, "is mainly to ensure that your work has a permanent readership in the library. But it is also to inspire this year's students."
---
This work is licensed under a Creative Commons Attribution-NoDerivatives 4.0 International License.
Please view the republishing articles page for more information.
---