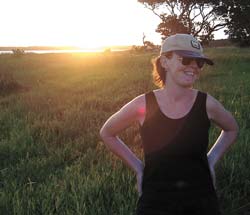 Into Africa: UCT's Dr Karen Barnes is principal investigator of the South East African Combination Anti-Malarial Therapy (SEACAT) evaluation being rolled out at five study sites in KwaZulu-Natal (where she was photographed), Limpopo, Mpumalanga and southern Mozambique.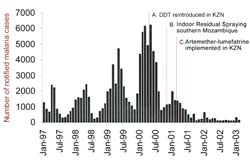 Number of notified malaria cases in KZN by month in relation to the timing of significant malaria control interventions.
(Graph courtesy of SEACAT evaluation, based on data from the South African Department of Health.)
According to statistics, malaria will claim more than one million African lives this year, its victims mostly children under the age of five, and mostly in sub-Saharan Africa. But closer to home there is new hope in the fight against the disease. A simple change in drug therapy, evaluated in northern KwaZulu-Natal, has dramatically reduced malaria fatality and improved cure rates in the province, and promises to do the same for those living along South Africa's malaria belt in the north east regions of the country.
In 2001, an artemisinin-based combination therapy (artemether-lumefantrine) replaced sulfadoxine-pyrimethamine (SP), the drug previously recommended by the province's Department of Health. Annual confirmed malaria cases notified for KZN decreased by 78% from 41 768 in 2000 to 9 473 in 2001. A further 75% decrease in notifications was recorded in 2002, which meant only 2 345 cases were documented. Unlike SP (and almost all other malaria treatments), artemisinin derivatives have a direct effect of reducing malaria transmission.
The KZN study site is one of five (the others are in Limpopo, Mpumalanga and southern Mozambique) and is part of a large collaborative venture, the South East African Combination Anti-Malarial Therapy (SEACAT), with UCT's Dr Karen Barnes (Division of Pharmacology) as its principal investigator. The initiative is a joint proposal by Mozambique, South Africa and Swaziland to study the effect of anti-malarial therapy on the emergence of drug resistance, conducted on behalf of the Regional Malaria Control Commission of the Lubombo Spatial Development Initiative.
"Although there are a number of malaria control interventions that were put in place, just changing the treatment itself has had a significant effect, particularly in reducing the chances of someone with malaria dying," Barnes added. (Interestingly, artemisinin is an ancient Chinese herbal remedy, qing hao, used traditionally for treating fever."
"The results offered by the KZN site are particularly startling because the SP malaria treatment the province had been administering was failing," Barnes said. "Twelve years after its introduction in 1988, SP was failing in 88% of people studied. In Mpumalanga, where SP was introduced in 1997, the failure rates are much lower as there has been less time for the parasite to become resistant."
According to Barnes, by administering two treatments simultaneously there is less likelihood of treatment failure. Combination drug therapy also reduces the chances of drug resistance spreading. "If you're giving two drugs, resistance to one of the drugs won't give the parasite a survival advantage because the second drug goes in, eradicates that parasite and it cannot be transmitted to someone else by a mosquito."
Researchers believe SP is particularly vulnerable to a relatively rapid spread of resistance. "In Mpumalanga we are combining SP with an artemisinin derivative, and plan to do so in other study districts soon. That way we can build a picture of the effect of adding an artemininin derivative on SP resistance patterns over a five year period, which we couldn't ethically do in a province where drug therapy had been failing badly, such as in KZN," she noted.
In Africa, chloroquine and SP have been widely used treatments but the malaria parasite has become increasing resistant to them, resulting in spiraling treatment failure. "The malaria incidence rate thus climbs and it becomes a vicious cycle. Patients are also more likely to progress to severe malaria and die. What we're doing is breaking that cycle, firstly, by introducing more effective treatment, and by using a combination of two drugs, which are expected to remain effective for longer." Artemisinin derivatives also have a direct effect to reduce malaria transmission. The choice of artemisinin-based combination depends on the resistance pattern at each of the study sites.
Hopefully the therapy will show that resistance develops more slowly this way. "In Africa there aren't many treatment options and we can't afford to lose one drug because the parasite develops resistance. We need to make our drugs last as long as possible."
Dual drug therapy is not new. It has been commonly used to treat HIV/AIDS, TB and even cancer. "The lesson was learnt long ago," Barnes added. "You don't give these drugs on their own. But because malaria has been the disease of the poor, people have tried to get by on very cheap single treatments and Africa is carrying that burden."
The value of the study also has broader implications. By replicating the work done in southern Mozambique Barnes hopes to establish a "level of relevance" for the rest of Africa.
There is plenty of work ahead. SEACAT will carry out a comprehensive evaluation of the phased introduction of combination therapy at provincial and national levels in study districts in Mozambique, South Africa and potentially Swaziland. Together with Charlotte Muheki and Di McIntyre of UCT's Health Economics Unit, cost effectiveness will be evaluated at each site biannually over a period of six years.
---
This work is licensed under a Creative Commons Attribution-NoDerivatives 4.0 International License.
Please view the republishing articles page for more information.
---