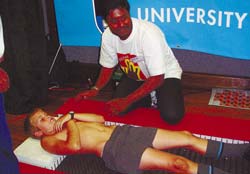 Nail biting: A scholar tests the bed of nails, part of UCT's exhibition titled Feel the Force at this year's Sasol SciFest in Grahamstown. Keeping a watchful eye on proceedings is physicist and PhD student Indresen Govender.
Take a bed of nails and about 1 000 school children, mix in a healthy measure of curiosity and a dollop of bravado, and you have all the ingredients for a captivating exhibition.
The bed of nails was the physics department's brainchild and the focal point of UCT's exhibition,
Feel the Force
, at this year's Sasol SciFest in Grahamstown. It certainly grabbed the attentions of the school-going groups, who flocked (one boy even dispatching his grandfather to check it out the next evening) to "feel the force" for themselves.
Interestingly, no one was allowed to stretch out on the platform of nails until they had answered the pivotal question: why can one safely recline on a bed of nails but not stand on it without incurring the aforesaid maiming, piercing and scarring? The explanation, as given by physics postgraduate student Trevor Volkwyn, is that since the force of gravity pulling the person down is constant whether standing or prone, the nails by way of electromagnetic contact forces must exert an equal but opposite force which is spread over a larger area when the person is lying down, thus reducing the pressure applied by each nail.
Though UCT's collective and interactive displays about the fundamental forces of gravity and electromagnetism, didn't take first place (as did last year's), UCT nonetheless came away with a creditable second place. First place went to the University of Natal who staged a host of small, interactive displays.
"They really deserved to win," remarked Iegsaan Isaacs, the Science Faculty's student recruitment officer and UCT SciFest team stalwart.
UCT's participation in the internationally renowned SciFest began four years ago. Associate Professor Julia Lee-Thorp (Archaeology department) convenes a committee of volunteers who brainstorm ideas and exhibits well in advance of the festival.
The input of postgraduate students is essential to the execution of the UCT exhibit. Shaun Peters, a Masters student in molecular biology, has two SciFests under his belt.
"I'm actively involved in developmental programmes at UCT. I believe in giving back to the community," he commented.
Apart from this serious aspect, all the postgraduate students involved in the UCT exhibit and two separate workshops enjoyed the Festival immensely and they gained excellent insights about popularising science.
The annual festival provides a useful platform for showing that science is exciting and fun, and for demystifying science, engineering and technology, creating a new mindset about these technical and often intimidating subjects. Importantly the various exhibits also show how science and technology underpin everyday activities.
Though UCT's bed of nails pulled in the crowds, there were other intriguing UCT exhibits: a demonstration of Galileo's experiment, an exercise in electrochemistry showing how fruit acids in whole lemons conduct electricity, displays of gravitropism (showing how roots in plants grow towards gravity), and magnetism in rocks.
Though substantial time, effort and resources are put into these exhibits, UCT does get fair mileage out of the material. Last year's SciFest exhibition will be on display at the MTN Science Centre from May 5 – 10 during SET Week. This year's exhibition will be put to good use throughout the year.
"That way we ensure local scholars can see the displays and not only those who travelled to or who live in the Eastern Cape," Isaacs added.
---
This work is licensed under a Creative Commons Attribution-NoDerivatives 4.0 International License.
Please view the republishing articles page for more information.
---