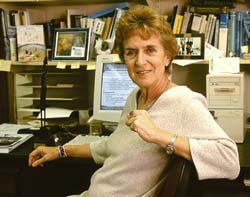 Later starter: Dr Jackie King, who has won a Women in Water Award from the Department of Water Affairs and Forestry, started undergraduate studies at UCT in 1971 as a mature-age student without a Matric.
Dr Jackie King, Principal Research Officer with the Freshwater Research Unit in Zoology, has scooped an annual Women in Water Award from Minister of Water Affairs and Forestry, Ronnie Kasrils, a fitting accolade in this, the Zoology Department's centenary year.
King, described in the awards profile as "the matriarch of South African river ecology", was one of five women to receive an award; hers was in the senior research (over 35) category. The other categories were: policy, management, research (under 35) and community.
Sponsored by Umgeni Water, the awards highlight the participation of professional and community-based women in the water sector as well as the key roles women play in poverty eradication, education and sustainable development, in both the urban and rural contexts.
The award recognises King as one of the main architects of the environmental flow (EFR) methodologies currently used in rivers around South Africa, as well as for her research in this field. These are the methods for assessing how much water should be left in rivers to ensure that their natural biophysical diversity is maintained and that they continue to provide the goods and services on which people depend.
King believes that South Africa has "arguably" the most advanced water law in the world, put in place by Kader Asmal in the form of the Water Act of 1998. "Environmental flow protection covered in this new Act was based largely on our being able to show the lawyers writing it that our methods could quantify how much water was needed to maintain rivers and wetlands in good condition, so you could say that we had the science in place ready for the law," she commented. King was the brains behind the Building Block Methodology, which became an international benchmark for EFR assessment in the 1990s and is still used - and copied - in many parts of the world today. She and colleague Dr Cate Brown have since developed the DRIFT methodology, which creates scenarios of how river condition will change with changing flow patterns and how this will affect common-property subsistence users of the rivers.
Apart from these high-profile applications of her ecological expertise, King is an international leader in fundamental research into the invertebrate communities of rivers, their habitat requirements and how these change with changing flow patterns.
The commendation from Kasrils is not King's first. She won the class medal as a first year student in 1971; the Purcell Memorial Prize for her honours dissertation in 1974 and, the silver medal of the Southern African Society of Aquatic Scientists in 1996, reflecting the recognition of her peers in the field.
She is also co-founder of, and senior consultant in, Southern Waters Ecological Research and Consulting, which is staffed primarily by past members of the Freshwater Research Unit. And, as her reputation has grown, she has accepted leading roles in international projects and organisations: Project Director for the flows study in the Lesotho Highlands Water Project; reviewer for the Queensland Government of their scientific approach to managing river health; scientific consultant to the Murray-Darling Basin Commission in Australia; Environmental-flow consultant to the Swedish funded Punqwe River Basin Study in Zimbabwe and Mozambique, author or co-author of guidelines on environmental flows for IUCN, the World Bank and the World Commission on Dams, to name a few. In 2001, she was appointed Chair of the World Bank's Environmental Flows Team for advising the Bank's Project Managers worldwide, with missions to Tanzania, Washington and south-east Asia.
In particular, her work with the Mekong River Commission (which bring together the governments of Laos, Cambodia, Vietnam and Thailand) stimulates and excites her. "Almost 60 million people rely on the resources of the Mekong River, and so helping guide the development of its water resources without damaging the fisheries and other living resources is very challenging." The Mekong has between 1 300 to 1 700 fish species and offers thousands of kilometres of navigable waterways for trade and transport.
But King's success story has humble beginnings. When she enrolled at UCT in 1971, she did so without a matric and, in her twenties, on a "late starter" ticket. After emerging with her doctorate in 1983 (with two babies in between), and while raising her children, King embarked on part-time research. She was one of the founders, along with Professor Jenny Day and Professor Bryan Davies, of the Freshwater Research Unit. In 1999, then in her forties, she began fulltime research for the first time. Now, a decade later, she says she is just getting into her stride as she nears retirement, thereby echoing many senior women researchers who put their careers aside for marriage and children.
The Women in Water Awards profile on King underscores this latecomer's achievements: "She is a determined, creative leader. She has trained and inspired a whole new generation of river ecologists to follow in her footsteps, and many of them are now leading scientists in the country and other parts of the world".
---
This work is licensed under a Creative Commons Attribution-NoDerivatives 4.0 International License.
Please view the republishing articles page for more information.
---