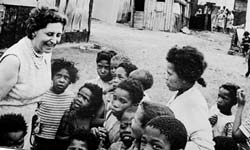 In the beginning: SHAWCO founder Dr Golda Selzer during the early days of SHAWCO.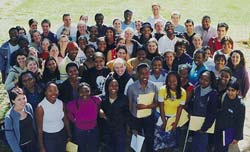 The driving force: SHAWCO's student volunteers.
"I got the opportunity to inspire – to dream by sharing my own experience of where I have come from and all that's possible when one has the ability to dream and the courage to try and achieve those dreams. I believe that the ability to dream and to envision a preferable future is the foundation or at the very least the first building block for lifting one out of one's present circumstances."
- Nayaradzo Machingambi [Machingambi, who is originally from Zimbabwe, is a law student at UCT, specialising in international human rights law. She was the Kensington Community Histories Project student volunteer in 2002.]
Machingambi's words echo the sentiments of generations of SHAWCO student volunteers. This year SHAWCO celebrates 60 years of service to underprivileged communities in Cape Town. What started as a one-man initiative grew into one of the largest student volunteer organisations, attracting around 500 UCT students, close to 100 foreign students, as well as about 20 community volunteers every year, all of whom give of their time and energy for the same goal of building a better future.
In December of 1942 Andrew Kinnear, a medical student, spent the vacation driving an ambulance to earn money to pay for his medical training. One of the places he visited was Kensington-Windermere (now Kensington and Factreton). He was appalled by the poverty, lack of hygiene and lack of medical facilities, and became determined to do something about it. When the new term started in 1943, he began to explore the possibility of opening a clinic run by students. He needed organisational ability and perseverance for he had to overcome indifference and scepticism. Eventually Kinnear asked Dr Golda Selzer of the Pathology Department at Groote Schuur Hospital to help him establish a clinic. To a large extent the success of the clinic was due to her, for she was the driving force behind it for many years, and it was her faith in the students, and her advice and criticism, which enabled them to continue.
Despite long hours and poor conditions, the students remained enthusiastic, coming winter and summer, during vacations and during examination time, Selzer noted. "One can only think back with tremendous pride of these students - their organising ability, their idealism, their enthusiasm, efficiency and above all, their determination to give service to the people... Their aim was service." The clinic began with eight patients on the first Friday night in July 1943. The following week there were 50 and then 70 to 80 for the remainder of the year.
Two separate medical student initiatives had also started in Retreat and then Elsies River. These became part of SHAWCO in 1961. Today SHAWCO does not provide medical services from these sites. The Elsies River and Kensington sites are now large community centres and the Retreat site is being used by another organisation as an old age home. The health students have moved on to areas where state services are still insufficient.
In 1954, Dr TB Davie, Principal and Vice Chancellor of UCT, lent his full support to the formation of a "University project, incorporating health, welfare and educational activities conducted by the entire student body for those in need". This led to University Council approving SHAWCO and its constitution in 1956. In the same year SHAWCO registered as a welfare organisation.
With time, SHAWCO expanded its presence and activities, particularly welfare services. The Manenberg centre celebrated its 21st birthday in 1998. Other developments have been in Nyanga/New Crossroads and Khayelitsha (where there are now three SHAWCO sites), which started with medical student clinics in 1983. The waves of medical clinics have tended to be followed by an increase in welfare and nutritional services. This is evidenced by the building of a nutritional and medical centre in Khayelitsha (K1) in 1985, the opening of a nutritional centre in Nyanga in collaboration with the UCT Child Health Unit, a community and educare centre in Khayelitsha (K2/Sakhisizwe) in 1990 and a primary health care unit in Township 2, Khayelitsha (K3/Zibonele) in 1991.
In December 1998, a decision was made to give back to the state all the statutory social work that SHAWCO had gradually taken upon itself because of lack of services in the areas of its involvement. With the new dispensation and the responsibility that the democratic government took upon itself to distribute the provision of social services more evenly, SHAWCO felt that it was time to reassess its role. Having made this decision, SHAWCO went through an extensive consultation process with the communities. As a result of these consultations, it was determined that youth and issues relevant to youth, such as skills training, drug abuse, self-esteem, HIV/AIDS and unemployment, as well as the provision of care for the elderly and the disabled were the two areas that the communities wanted SHAWCO to focus on. Healthcare projects and running multi-purpose community centres with skills training and recreation projects also remain a part of SHAWCO's strategy.
The move from welfare to empowerment has not been as smooth and easy as SHAWCO had envisaged, but after four years of a very steep learning curve, and after making a number of mistakes in the process, we have reached a point where we can start consolidating and expanding the successful projects and looking at adding new projects and establishing new partnerships.
The road ahead promises to be exiting and challenging. However, we are sure that under the guidance of SHAWCO's new Chairman of the Board, Dr Benito Khotseng (UCT newly-appointed Deputy Vice Chancellor for Student Affairs) our future as a unique and first-class youth and community development NGO is secure.
To celebrate its diamond jubilee, SHAWCO will be hosting a number of celebratory activities throughout the year. This will include a series of exhibitions on the organisation's history, to be set up at its various community centres and elsewhere.
SHAWCO also hopes to set up a Golda Selzer Fund in honour of its founder. It is envisioned that this fund will be used to keep many of the organisation's day-to-day activities going.
The organisation AGM will also serve as part meeting, part celebration.
Watch this space for more news on these events.
- Anna du Bois, SHAWCO Fundraiser
- This is an amended version of an article appeared in the February 2003 edition (vol 9) of SHAWCO's newsletter, SHAWCO News.
---
This work is licensed under a Creative Commons Attribution-NoDerivatives 4.0 International License.
Please view the republishing articles page for more information.
---