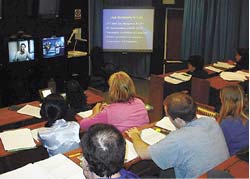 Here and there: Prof John Gibson from UCT's Institute of Marine and Environmental Law is teaching 25 MSc students from Bangor University in Wales in a virtual classroom using video conferencing facilities.
PICTURE a lectern and a professor waxing eloquent on the
Sea Empress
case. The auditorium, however, is empty, and instead of the rustling of paper, there is merely the occasional electric buzz.
Professor John Gibson from UCT's Institute of Marine and Environmental Law is teaching 25 MSc students from Bangor University in Wales, and all they have to do is get the time zones right. The video conferencing facility in the Law Faculty allows for the virtual classroom scene.
In the lively question and answer session at the end you will be excused for forgetting you are not attending a normal lecture session. Bangor University picks up the tab for the call because they are keen to have Gibson's input (he is a leading authority on coastal zone law) and because the institution is part of the Wales Video Network.
The network, which is the largest in Europe, has 84 state-of-the-art studios and enables Welsh students and staff to share teaching, learning and research with each other, and with the rest on the world, UCT included.
In another video-conferencing first for the faculty, Professor John Hare of the Shipping Law Unit, is taking teaching across the wire a step further. He and colleague Professor Martin Davies of the Maritime Law Centre of the Tulane School of Law in New Orleans are co-teaching a shared admiralty jurisdiction and practice module for both the Tulane and UCT shipping law programmes.
For the next five weeks both sets of students, representing some 12 countries, will explore the Comparative Admiralty Procedures of South Africa and the United States of America. The sessions will end with a challenging admiralty debate.
Hare is particularly keen on the exercise, one that follows pilot link-ups with Tulane and Nottingham last year. "Our students can build academic relationships over the net. We have photos and a short profile on each class member on our
Shipping Law website
." The teachers are using
Nicenet
, described as a "internet classroom assistant", to follow up lectures with discussion topics and documents posted onto Nicenet for the class to use.
Both ventures have been made possible by a state-of-the-art four-way conferencing facility in the Oliver Tambo Moot Court at the Faculty. The Court is also used by staff and students to simulate "virtually real" court room situations.
---
This work is licensed under a Creative Commons Attribution-NoDerivatives 4.0 International License.
Please view the republishing articles page for more information.
---