General
The 2nd South African WebCT Users Conference will take place in Stellenbosch in late-2003. Further details will be provided when available.
Q&A:
Q:
When did UCT start using WebCT, and how many people at UCT are using it now?
A:
After three pilots in 2000, WebCT went live in 2001. By the end of 2002, some 150 lecturers and 3Â 500 students were using WebCT in over 150 courses. More details on current usage are at:
http://webedu.its.uct.ac.za/stats/default.html
and
http://healthed.med.uct.ac.za/webstats/webct/default.html
.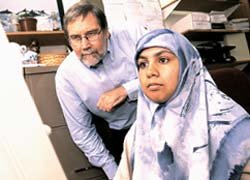 Linking law: Prof Danie Visser (left), with the assistance of secretary Khadija Khan, has been using WebCT for a number of projects in the Department of Private Law.
Spotlight On: Prof Danie Visser
Prof Danie Visser of the Department of Private Law in the Faculty of Law (having been trained and assisted in its use by his highly computer-literate secretary, Khadija Khan) uses WebCT in a variety of ways, illustrating the flexibility of WebCT and innovation of our staff.
Comparative Legal History: This is one of the biggest law preliminary courses, with about 220 students. WebCT holds legal articles, some prescribed law reports, past examination papers, and a quiz that allows the students to improve their skills.

Reports from the students indicate that they love especially the quiz feature, as it gives them instant feedback on their understanding and progress. In this course, they may take the quiz three times, ensuring they improve upon their performance.


Florida Summer School Program: This programme is a joint venture between UCT and UFL (University of Florida) involving 20–25 students from all over the United States. Students come to UCT for six weeks' intensive work. During their time on Campus, much of the course material is available on WebCT – while most access it from UCT's labs, many have other demands on their time, and need to access it from off-Campus, which they can do with ease.

WebCT is also very useful in keeping all the students informed about the changes in schedule.

After the programme, the material remains available for six weeks, allowing the students to download it from home, thereby removing the need to carry notes or disks around.


Double Cross: This is not a course, but a co-operative venture between legal minds in South Africa and the United Kingdom. The project focuses on the creation of a book (25 chapters), which compares the law of Scotland and South Africa. Each chapter is written by two people – one South African, and one Scot. WebCT allows each pair to share drafts of the work with the 50 contributors, but simultaneously keeps the information safe before publication.

In April 2002, a Double-Cross Conference was a meeting point for the legal minds, and the participants had access to drafts beforehand.
So, whether supporting larger courses, post-graduate special short courses, or collaborative initiatives among professionals, WebCT's flexibility and power is there for the taking.
---
This work is licensed under a Creative Commons Attribution-NoDerivatives 4.0 International License.
Please view the republishing articles page for more information.
---