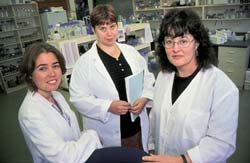 Showing the way: (From left) Dr Wendy Burgers, Dr Joanne van Harmelen and Assoc Prof Anna-Lise Williamson are part of the team of UCT researchers doing groundbreaking work on HIV vaccines in the country.
THE PURSUIT of a vaccine that would, at the very least, limit the effects of infection by the human immunodeficiency virus (HIV), has received a major financial boost from the South African AIDS Vaccine Initiative (SAAVI) which recently made a R10-million award to a team UCT scientists headed by Associate Professor Anna-Lise Williamson of the Institute of Infectious Diseases and Molecular Medicine (IIDMM).
The money will fund the first year of a three-year project, The Development of Candidate HIV-1 Subtype-C Vaccines for Southern Africa, to run from 2003 to 2005. This work continues on research, funded by SAAVI to the tune of R11-million, started by the group in 2000.
The initial project ran until 2002, and was one of only two research proposals selected in 1999 by SAAVI for HIV-1C vaccine development. To this end, Williamson, based in the Division of Medical Virology in the Department of Clinical Laboratory Sciences, gathered a multi-disciplinary team of researchers from around UCT, including sibling Associate Professor Carolyn Williamson (medical virology), spouse Professor Ed Rybicki (molecular and cell biology), Associate Professor Enid Shephard (medicine) and Dr Will Bourn (clinical virology).
Dr Wendy Burgers, Dr Ann Jaffray, Dr Fiona Tanzer and Dr Joanne van Harmelen, as well as Ann Grobler, representative of industry partner, Meyer-Zall, joined these principal investigators on the project's scientific management team. In addition, the group formed collaborations with a number of international researchers and laboratories.
"There's a tremendous amount of goodwill in HIV-vaccine research, because it's perceived to be an important issue," noted Williamson.
The team's ultimate goal, a purpose that has driven both three-year studies, is to manufacture a safe, inexpensive vaccine that could be used in human trials, Williamson explained. In keeping with this objective, the researchers have over the past few years homed in on a number of promising candidate vaccines.
These include two DNA vaccines and a Modified Vaccinia Ankara (MVA) vaccine, as well as Bacillus Calmette-Guerin (BCG), Salmonella and subunit versions. All these vaccines are designed specifically against HIV subtype-C, which is prevalent in southern Africa.
According to Williamson, the group well exceeded the expectations of the first three-year project. As such, it has managed to manufacture two DNA vaccines, and is in the process of manufacturing an MVA vaccine, which will soon be passed on for clinical trials.
Much of the success of the first project could be ascribed to the scientists involved in the research, said Williamson. "It all comes down to having a great team," she observed. "We've managed to get really good people onboard."
Working almost exclusively on the MVA and DNA vaccines, its most promising, towards the end of the first project, did mean that the group's other vaccines had to be put on the backburner for a while, Williamson said. The SAAVI funding will allow the team to now return its attentions to these alternatives.
One of only two groups — the other is based at the University of Stellenbosch — working on HIV-vaccines in South Africa, the team's work is at the heart of the country's efforts to come up with a successful antidote to HIV infection, Williamson said.
Support, both financial and otherwise, from the national health department, local and international funders, and organisations such as SAAVI has therefore been crucial to its efforts.
---
This work is licensed under a Creative Commons Attribution-NoDerivatives 4.0 International License.
Please view the republishing articles page for more information.
---