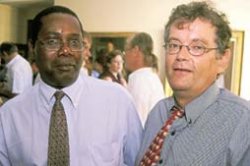 Rated among the best: Prof Evance Kalula of the School for Advanced Legal Studies and Prof Jan Glazewski of the Institute of Marine and Environmental Law are two of UCT's law researchers to be honoured by the NRF.
EXECUTIVES and scholars from UCT's natural science and engineering disciplines turned out in numbers at a Celebrating Research Excellence function two weeks ago to applaud those colleagues in the social science, humanities and law fields who have recently been awarded ratings by the National Research Foundation (NRF).
The group, which features three A-rated, 13 B-rated, 22 C-rated researchers, as well as one P-rated scholar, makes up the UCT contingent who received ratings as part of the NRF's first-ever evaluation of scholars in the humanities. Three applications are still to be processed.
Guest speaker at the function was Dr Khotso Mokhele, President of the NRF, who briefly outlined the history of the NRF rating system.
Specifically, he pointed to the Foundation's rigorous quality assessment procedures that comprise the ratings system, a topic that cornered much of the debate at the time the system was introduced.
Born out of a marriage between the Foundation for Research Development (FRD), which supported the natural science and engineering disciplines, and the Centre for Science Development (CSD), which provided funding for research in the humanities and social sciences, the NRF was faced by a number of challenges in merging the disparate cultures of the two organisations, said Mokhele. Of immediate concern to the NRF was the question of applying the FRD's ratings system – described as "draconian" by some – to researchers in the humanities.
"It's not a system that has universal acclaim," he noted.
Despite the initial objections, it soon became clear, as he visited more than 30 higher education institutions around the country, that many of those in the humanities were surprisingly amenable to applying a similar process. Applications for ratings in 2002 testified to this fact.
The number of applications and awards of ratings, Mokhele said, were surprisingly similar to those in the first year of natural science and engineering evaluations in 1984. (The NRF will release official statistics at a later stage, at which time Monday Paper will be permitted to print them.)
Another topic Mokhele touched on briefly was that of the relationship between funding and rating, an issue he was reluctant to broach. "I must point out, however, that I do not fundamentally believe that ratings should be segregated from funding," he said.
The current separation between the two was a condition forced on the NRF as an organisation with limited funding, he added. "But it's a position that, if we win the funding battle we're currently engaged in, can be looked at and changed again."
---
This work is licensed under a Creative Commons Attribution-NoDerivatives 4.0 International License.
Please view the republishing articles page for more information.
---