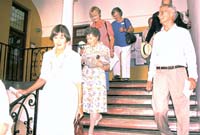 Taking care of the future: Members of UCT's Heritage Society on a walkabout around Hiddingh Campus.
HIDDINGH Campus was the venue of the annual UCT Heritage Society soirée. The Heritage Society recognises donors and friends of UCT who have made, or are thinking of making, deferred gifts to the institution. The society brings together members and prospective members to keep them informed about UCT.
This year's event involved a tour of some the buildings that house the Michaelis School of Fine Art and the Department of Drama at UCT's original home, Hiddingh Campus.
The tour was lead by Professor Bruce Arnott and Myer Tomb, a UCT drama honours graduate, who reminded members of the Society that, although tucked away in the heart of Cape Town's city centre, almost 20 km from the campus in Rondebosch, the halls and theatres of Hiddingh Campus are steeped in history and part of UCT's multi-faceted history.
"It is good to have this annual event because members of the Heritage Society learn something new each time they visit different parts of the University," commented Dr Stuart Saunders, Patron of the UCT Heritage Society.
"What struck me was how far back the University goes in the history of this country and how deep our roots are," he continued.
In his address, Saunders thanked members for their continued support, which ensured its long-term sustainability. In addition, the bequests received were given by people who have a deep affection for and a rooted association with the institution.
UCT received R 3.5-million in bequests in 2002.
---
This work is licensed under a Creative Commons Attribution-NoDerivatives 4.0 International License.
Please view the republishing articles page for more information.
---