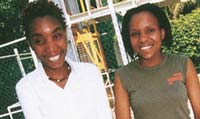 Down Under: UCT chemical engineering students Milly Mathonsi (left) and Sima Mngoma spent two months at the Julius Kruttschnitt Mineral Research Centre In Brisbane, Australia, over December and January as part of a travelling scholarship to undertake vacation project work.
UCT CHEMICAL engineering students, Milly Mathonsi and Simangele Mngoma, had a summer break to remember after winning travelling scholarships to the Julius Kruttschnitt Mineral Research Centre (JKMRC) in Brisbane, Australia, in December.
Now in its third year, the JKMRC scholarship had been awarded to one recipient a year previously, but the applications submitted by Mathonsi and Mngoma were so close that the adjudicators at UCT's chemical engineering department declared a tie.
JKMRC director, Professor Tim Napier-Munn, said the quality of the UCT scholarship winners had been outstanding. He added that the JKMRC was pleased to be able to make a contribution towards widening the experiences of young indigenous South Africans through industrial research, mixed with international travel.
The students travelled to Brisbane together, where they were given individual projects to complete during their two-month stay, which wound up at the end of January. Each project related to a different aspect of mineral processing.
Mathonsi's project required her to relate images taken of froth on top of a flotation cell to the metallurgical performance of the flotation process. Over the two months she conducted nine flotation tests and used the JKMRC's froth vision technology – JKFrothCam – to analyse the images from the tests.
It was the first time Mathonsi had used froth vision technology. "It wasn't really that complicated as my supervisor, Dr Marco Vera, explained everything to me."
Mngoma didn't have the same run of luck. The project she was assigned to ran into some "real life" industrial problems in terms of extra down time required to maintain the equipment after it was put through some heavy duty research work conducted earlier in 2002.
Her task was to check the gradient of ferrosilicon medium put through a dense medium cyclone by using a specially constructed tomographic imaging unit attached to the cyclone rig.
Cyclones are industrial mineral separators used commonly in Australia and around the world, typically for iron ore, diamond- and lead-zinc processing, as well as the coal industry.
While Mngoma and her JKMRC supervisor Dr Peter Holtham struggled to get the tomography equipment running smoothly, a lot was learnt in a short space of time.
Midway through her project, Mngoma conducted a dense medium modelling exercise with the help of JKMRC researcher Dr Michael Dunglison. While she was unable to extract enough data to write a report on tomography, she was able to meet the requirements of the scholarship by writing a report on modelling.
Although Mathonsi is from Richard's Bay and Mngoma from the Northern Province, the two had previously met during their high school days and again during a selection interview for De Beers prior to attending UCT. Both are studying at UCT under De Beers bursaries.
While Mngoma enjoys the academic side of chemical engineering, she says she has found the industrial side challenging. "Seeing the work done by the JKMRC has been very helpful and exciting," she said.
Napier-Munn said the JKMRC was committed to a continuation of the scholarship. "Student exchange is a powerful way of maintaining our close technical links with UCT," he added. "It's good for the students and good for us."
The travelling JKMRC scholarship was organised through chemical engineering's Dr Dee Bradshaw. For further information on the scholarship contact her on 021-650-3797 or email
db@chemeng.uct.ac.za
.
---
This work is licensed under a Creative Commons Attribution-NoDerivatives 4.0 International License.
Please view the republishing articles page for more information.
---