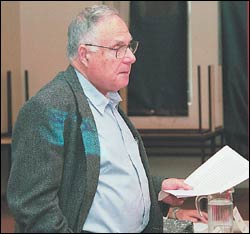 Shifting boundaries: Prof Jehoshua Gitay at the HIV/AIDS colloquium.
As the world's poorest continue to carry the burden of HIV/AIDS, academics, scientists and policymakers wrestle with issues of communication, ethics and democracy.
Getting to the heart of the matter, UCT's Centres for African Study and Rhetoric recently presented a colloquium entitled Science, Medicine and Democracy: Reflections on the HIV/AIDS issue. The speakers included Professors Solly Benatar, director of the UCT Bioethics Centre, Yehoshua Gitay of the Centre for Rhetoric, and Steven Robins of the anthropology department at Stellenbosch University, a visiting associate at the Centre for African Studies. The chair was political sciences' Professor André du Toit. The topics dealt with AIDS, science and citizenship as well as ethics and politics.
"AIDS is a disease which affects humankind globally, but specifically in Africa. The issue is also no longer purely medical, but also political and social," said Gitay. "This colloquium sought to clarify the issues of the roles of citizens and the roles of democracy regarding this critical matter."
He said policymakers faced a range of critical issues, but the most important affected the essence of democracy: how do policymakers make decisions on HIV/AIDS without adequate knowledge of the disease? "In other words, how does democracy work when knowledge is limited to a select group of experts?" Gitay asked. "And no less important is the communication between scientists, who employ technical language, and policymakers, who are often lay scientists."
---
This work is licensed under a Creative Commons Attribution-NoDerivatives 4.0 International License.
Please view the republishing articles page for more information.
---