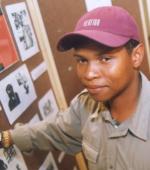 Collecting and representing: Thabo Manetsi in front of his display on
Picturing 'The Bushmen' through the camera lens
which formed part of an exhibition of works by students in the Centre for African Studies' Public Archaeology course.
TAKING a "hands-on" approach to theories and concepts thrashed out in class, half-a-dozen Honours students from the Centre for African Studies (CAS) have put together innovative multi-media exhibitions in dealing with themes of representation and collection.
The six did so for their one-semester elective on Public Archaeology: collection representation and display, convened by lecturers Noëleen Murray and Dr Nick Shepherd. During the course, students had "engaged in a process of collecting", explains Murray, at the same time working their way through the problematic issues of collection and representation.
Combining Shepherd's background in archaeology and Murray's in architecture, the two then set the students the task of coming up with exhibitions that would allow them to tackle these issues from a practical perspective, while also dealing with themes of identity and hybridity.
In response, French student Jothi Jayadevan ran a CD-ROM display on
Tourism in South Africa through the lens
; Frans Krüger and Emmylou Rabe teamed up for
Sand-Stone-Iron
in which they mounted photographs on, among other things, corrugated iron sheets; Thabo Manetsi used photographs and a film to explore his topic of
Picturing 'The Bushman'
behind the camera lens; American Amelia Pleasant put together a collage of photographs from "home" and Africa for
What they saw–
; while compatriot Lisa Slominski silk-screened three recognisably South African garments – a kaftan, a Supercare overall and a school dress – with the Coca-Cola logo for her exhibition on
Inventing 'tradition'
.
Getting students to set up displays of their own has added a vocational element to the course, as many of them are in heritage studies streams, Shepherd notes. "In the course, we've been exploring issues of collection from a theoretical and academic standpoint," he says.
"And while it's all very well to critique, it's also nice to construct."
---
This work is licensed under a Creative Commons Attribution-NoDerivatives 4.0 International License.
Please view the republishing articles page for more information.
---