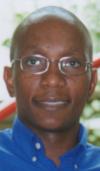 First of many? Management Accounting lecturer Richard Chivaka won the best paper award at a supply chain management conference in Sheffield, UK. It was the UCT academic's first conference paper.
RICHARD Chivaka of the Department of Accounting has returned from the annual Supply Chain Supply Management Conference at the University of Sheffield with a special accolade; he won the best paper award, a commendable achievement considering it was the Zimbabwean's first conference paper.
Titled
The Role of Management Accountants in Value Creation Through Improved Supply Chain Management
, the paper presented a case study of the South African retail sector, examining the way in which management accountants (who were often criticised for being "inward-looking") create value in the supply chain through relevant and timeous information as well as their involvement in teamwork.
"Supply chain management, which is an area I have a lot of interest in, is becoming more and more important in surviving globally," Chivaka noted. "Simply, companies need to satisfy their end-use customers and satisfaction is measured by the quality of the product, technology, and the speed at which the needs of the customer is met. It's difficult for a single company, operating in isolation, to achieve that. If manufacturers, distributors and retailers work together there is a better chance of satisfying the customer.
"My interest in supply chain management is in investigating the role that management accountants play, particularly in value creation through improved supply chains. Many management accounting researchers have not yet explored this area of research." There is a need for more research in the form of case studies in different supply chain settings and over long periods of time to further examine the roles of management accountants, Chivaka added.
The international exposure at the Sheffield conference has also opened doors for collaborative research with European institutions. "There is an interest in what is happening in southern Africa."
Chivaka completed his BCom Hons (Accounting) at the National University of Science and Technology in Zimbabwe in 1995. He was awarded the Best Student in Research Project by the Institute of Chartered Accountants of Zimbabwe for his undergraduate research.
After a brief spell as an auditor in 1996 (an experience he didn't relish), he turned to lecturing at his alma mater. Later that year a staff development programme took him north to the University of Manchester, where he completed a Masters of Science in Accounting and Finance.
But by then things had begun to unravel in his native country. After another two years as an academic there, Chivaka looked south. "God was good to me; I left at the right time," he reflected. He was accepted for a post at UCT, which came as something of a culture shock. "I wasn't used to the way things were done here, especially the differences in the delivery approaches and the expectations of students. I felt at that time that students here expected a little bit more than I was used to.
"In Zimbabwe, students come through a rigorous A-levels programme, where they learn to work alone, so perhaps by the time they come to university, they don't need much support. At UCT there really is a lot of support for students; notes, modules, tutorials. However, I have devised a hybrid approach to my course delivery that is working very well with students."
---
This work is licensed under a Creative Commons Attribution-NoDerivatives 4.0 International License.
Please view the republishing articles page for more information.
---