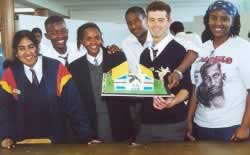 Future architects: Learners proudly display the model of the structure they designed and built at a day-long workshop hosted at the UCT School of Architecture and Planning to introduce learners to the discipline of architecture.
TWO of the Western Cape's most prominent architecture institutions have joined forces to create a day- long workshop that gives school pupils in Cape Town an opportunity to be architects for a day.

The UCT School of Architecture and Planning and the Cape Institute for Architects recently hosted Grade 11 and 12 pupils from various schools, in an effort to expose a diverse group of potential university students to the discipline.

"The workshop is an attempt by the School to increase diversity in the department by exposing pupils from various backgrounds to the discipline of architecture," explains architecture lecturer, Sonja Petrus-Spamer.

Spamer says that when the School refers to diversity it is not confining itself to race and gender but rather diversity across a wider spectrum.

"Architects work across a whole range of issues and we intervene quite broadly in peoples lives, from homes to hospitals to clubs, etc. So potential architects really need to be drawn from the different communities that represent our current South African condition and therefore contribute productively to the architecture courses we offer to contribute productively to the architecture courses we provide."

Respected architect Sheila Nation, one of the first women in South Africa to qualify as an architect, conducted the workshop. This began with a simple introduction to the basic principles of architecture, which the participants used when they gathered in groups to design a structure and build a model.

Spamer says that the aim of the workshop was, firstly, to encourage and build awareness about architecture and design and, secondly, to empower learners by showing them that we all have 'architectural' abilities and sensibilities (we all design and organises the spaces we inhabit every day); and thirdly that the built environment is vitally important to all of us.

Spamer adds that after the workshop the School of Architecture Planning and Geomatics follows up on the academic progress of particular learners who show potential during the workshop, with the intention of evaluating the success of our outreach programme and/or to assist these learners gain entry into architecture or a related discipline.
---
This work is licensed under a Creative Commons Attribution-NoDerivatives 4.0 International License.
Please view the republishing articles page for more information.
---