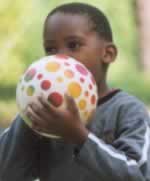 IF YOU are cute, cuddly, have an adult or two to run your life, and are in need of further mental stimulation and preparation for the big bad world, then this might be just what you are looking for.
The UCT Educare Centre has announced that there are 26 vacancies available for next year. The Centre caters for 75 children, and has a complement of nine staff. There are five class groups, and children from three months to six years are admitted.
According to Marilyn Petersen, Head of the Centre, the curriculum is designed according to the developmental stages of the specific age group. And while it lends itself to the development of the whole child, that is physical, intellectual, social, emotional and cultural development, a variety of extra-mural activities are encouraged.
The extra-mural activities on offer are swimming, movement and dance, computer lessons and, the latest addition to the assortment, fun-ball. "All our extra-mural activities boost our learners' self-esteem, but fun-ball is particularly enjoyed because it gives children the opportunity to learn how to play cricket, tennis, rugby, hockey, soccer, netball and a variety of other sports at an early age," she explains.
Petersen says that besides getting some form of structured exercise, fun-ball develops muscle groups, eye hand co-ordination, tolerance, perseverance, sharing and "it emphasises that winning is not everything", she adds.
Fun-ball is taught by Ross Esson, a UCT student who devised novel ways of getting children used to catching balls of various sizes, playing games that enhance eye and hand co-ordination and using sports equipment that familiarise children with particular sports.
"We think these life skills are invaluable as they form the foundation for formal learning and will be carried through life," Petersen concludes.
For further information call Marilyn Petersen on tel: 650-3522.
---
This work is licensed under a Creative Commons Attribution-NoDerivatives 4.0 International License.
Please view the republishing articles page for more information.
---