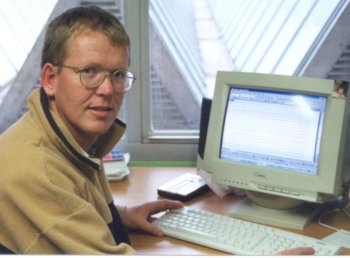 Smoke gets in your eyes: UCT Economics lecturer Corné van Walbeek is compiling research on efficient tobacco control measures.
WITH World Tobacco Day around the corner (May 31), Corné van Walbeek, a UCT economics lecturer, says that while it is important to highlight the medical aspects of smoking tobacco, the economic impact is equally important.
Van Walbeek is compiling research on efficient tobacco control measures and their impact for developing countries.
"My research does not concentrate on the medical aspects as I regard the medical aspects as given.
"One of the aims of the research is to demonstrate to a typical developing country how they can implement a tobacco control policy and what the likely consequences of such a tobacco policy would be.
"These responses include an increase in the tax on cigarettes, a ban on tobacco advertising and sponsorships, and possibly a ban on smoking inside buildings."
Van Walbeek's research largely concentrates on the effects of tax increases on cigarettes. He says that increases in the cigarette tax increases government revenue and reduces cigarette consumption.
In order to maintain their profitablity, cigarette manufacturers have increased the retail price by more than the tax increase.
"This reduces cigarette consumption further, but makes economic sense for the cigarette manufacturing industry."
According to Van Walbeek, since 1991 the real price of cigarettes in South Africa, that is the price adjusted for inflation, has increased at about a 100%.
In 1991, a pack of cigarettes cost R1.65, and now it's between R10 and R12. This price increase has lead to a decrease in the number of smokers.
"The smoking prevalence among South African adults has decreased from 32% in the early 1990s to the current level of about 27%."
Van Walbeek's research is the second phase of a project that was started in 1996 and is funded by the World Bank, the Research for International Research Control that is attached to the International Development Centre in Canada.
"The first phase of the project had massive implications in terms of the legislation that was being debated between 1996 and 1998.
"Many of the economic results that that phase of the project produced were very useful to the Ministries of Health and Finance.
"The tobacco industry has in the past tried to influence the government's policies around tobacco arguing that an increase in taxes would result in less Government revenue and a major increase in cigarette smuggling.
"We have disproved these theories quite confidently."
On the debate about smoking in public areas, he explains that current legislation has marked a dramatic shift in property rights for non-smokers who in the past were forced to tolerate smoking.
"Although some people say that the current legislation has no teeth and that it is too difficult to enforce, the important issue is that property rights to breathable air has passed from smokers to non-smokers. Non-smokers can now enforce their rights because they now have a law to back them up.
"You are unlikely to find people smoking in any UCT building."
---
This work is licensed under a Creative Commons Attribution-NoDerivatives 4.0 International License.
Please view the republishing articles page for more information.
---