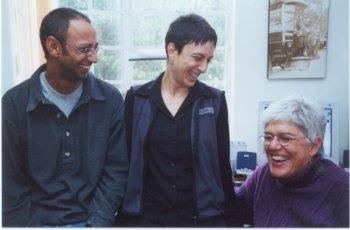 Protecting the future: (From left) Grahame Hendricks, Sia Maw and Professor Sally Swart stand united in their effort to protect all children from any sort of abuse.
MANY children are easily forgotten during Child Protection week (May 26 to June 1) as the focus usually falls on children who have experienced the worst kind of trauma, sexual abuse, says Grahame Hendricks, Project Manager of the Learning Problems Groups at the UCT Child Guidance Clinic.
"Whenever people talk about Child Protection Week, they instantly mention the worst trauma cases, mostly of sexual abuse," he adds
"In my learning groups, the kids do suffer abuse but it may not be sexual, it is neglect by the schooling system, their socio-economic environment, violent neighbourhoods, poor living conditions; there is so much and they are not being protected."
According to Professor Sally Swart, Director of the Child Guidance Clinic, the facility is one of the few units at UCT that does direct work with children and families with psychological and emotional difficulties or trauma.
The unit is funded by UCT, Radda Barnen, the Swedish Save the Children, the Nelson Mandela Children's Fund and Anglo Gold, and all services offered are free for families who cannot pay.
The Clinic, through various methods and programmes, helps children who might be experiencing small problems with their families, right the way through to children who might be in serious trouble or presenting learning problems.
Hendricks is one of the many dedicated staff at the clinic who offer their encouragement to children with learning disabilities.
"A child with a learning disability is usually a child with average intelligence. The children we deal with are very rarely of average intelligence, they're slightly below. They are children who technically could cope or should be coping at school, but because of their personal circumstances or the fact that the government school system is overburdened with such kids and the teachers are overwhelmed, the kids fall behind," he explains.
According to Hendricks, some of the children cannot read and this is not detected until later in their school careers. His work involves co-ordinating remedial sessions, learning groups and emotional sessions for the children and offering support groups for the parents.
The Clinic, in conjunction with the Department of Health and Rape Crisis, has also been involved in the development and implementation of training for medical personnel in the management of rape and sexual assault survivors.
"The development and implementation of a detailed rape protocol aims to train medical personnel in how to follow a standardised forensic examination form so that when these cases get to court, which takes two to three years, the information will have been thoroughly documented early in the protocol," says Sia Maw, course co-ordinator of the unit's Masters programme. According to Maw, in many sexual abuse or rape cases the J88, a docket that describes the injuries incurred, has not been filled out correctly and the case is thrown out of court because of a lack of evidence.
"In addition, a certificate is being developed in order to train people in social services, the police, public prosecutors, magistrates and frontline workers in more effective ways to interview and manage child sexual abuse survivors."
---
This work is licensed under a Creative Commons Attribution-NoDerivatives 4.0 International License.
Please view the republishing articles page for more information.
---