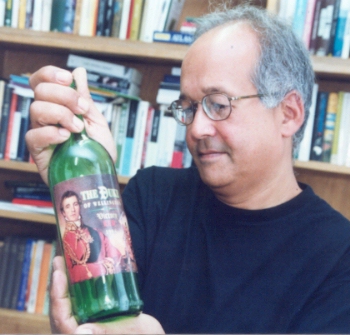 History in a bottle: Professor Bill Nasson of the Department of Historical Studies recently hosted the first of a series of British World Conferences focusing on the concept of a shared British identity.
A COMMONWEALTH of historians trekked to UCT at the beginning of the year for the first of a series of British World Conferences, hosted in former "dominions" of the British Empire, to scrutinise the idea of a common British identity.
The gathering follows on a small conference convened by the Institute of Commonwealth Studies at the University of London in 1998 on The British World c.1880s – c.1950s. This meeting was based on the assumption that the British Empire was, during this period, held together by a shared sense of British identity, explained Professor Bill Nasson, Head of the Department of Historical Studies.
Out of this one-day colloquium sprung an organising committee tasked to arrange a series of similar conferences to further explore the concept of "Britishness" and the legacy of the British Empire, said Nasson.
These would take place in former British outposts, specifically South Africa, Canada and Australia and New Zealand (the latter two would share a meeting), with special emphasis to be placed on the host country.
At the South African chapter in January, held at UCT, delegates started off with a broad discussion on British identity, before turning to more regional aspects. Sessions on the latter centred around The Creation of British Communities Abroad; Missionaries and the Promotion of Britishness; and Imperial Media and the Promotion of British Identity, among other areas.
Among the international delegates were eminent historians such as Dr John Darwin of Nuffield College, Oxford University, and Professor Richard Price of the University of Maryland in the United States. According to Nasson, the conference was made that much more interesting by the attendance of a number of local schoolteachers, as well as representatives from the Saldanha Bay Military Academy.
---
This work is licensed under a Creative Commons Attribution-NoDerivatives 4.0 International License.
Please view the republishing articles page for more information.
---