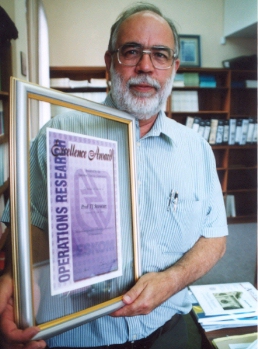 You light up my life: Professor Theo Stewart has made a winning contribution to ESKOM's strategic planning.
ESKOM, the state-owned power provider, recently honoured Professor Theo Stewart of the Department of Statistical Sciences with an award for outstanding service.
They made a similar award to the department for its assistance in applying operations research techniques to issues ranging from project management to organisational restructuring at ESKOM.
The awards were made specifically for Stewart's work with ESKOM's Generation Group as part of investigations into possible positioning of the company's assets. One possibility being investigated was, with the aim of increasing competitiveness in the local industry, to cluster the power stations into small generation entities.
"As part of such an approach, ESKOM Generation would consolidate its power stations into a number of clusters, each of which could eventually become a business in its own right," explained Stewart. "Each such business would then bid to provide electricity at different times and at different prices into the national grid."
The problem facing ESKOM Generation in developing this idea was in knowing how to create these clusters, Stewart pointed out. "You would have to start with a level playing field, so that each cluster was of roughly equal market power."
This led to a joint project between ESKOM Generation and the UCT department, in which a model for the evaluation of different possible permutations was developed, using techniques from the field of operations research (also known as operational research), and "explicitly recognising the business' varied and often conflicting goals". Operations research is the use of quantitative systematic mathematical modelling to assist in management decision-making, explained Stewart.
"It can be used generally in an enormous wide variety of areas – anywhere where anyone makes any kind of strategic management decisions." Stewart has used similar modelling approaches in his work on national water resource planning and funding allocations for research, among other things.
So pleased was ESKOM Generation with the results of Stewart's modelling that the Group made the special awards at the annual conference of the South African Statistical Association towards the end of last year.
---
This work is licensed under a Creative Commons Attribution-NoDerivatives 4.0 International License.
Please view the republishing articles page for more information.
---