"The exhibition has provided an excellent platform to present mineral workshops for teachers."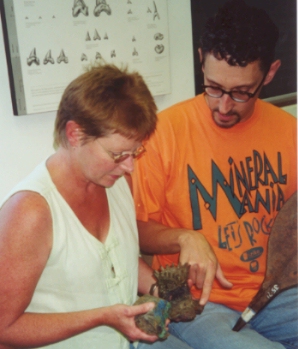 Rock on: Geochemist Dr Marian Tredoux and archaeologist Dr Duncan Miller examine a ritual iron artefact from South Africa. Both academics have made significant contributions to the Mineral Mania exhibition at the SA Museum. The exhibition runs for six months and is a collaboration by UCT, Iziko Museums of Cape Town and the South African Mineralogical Society. The sponsor is bhpbilliton.
LUGGING rocks off Cape beaches is not Dr Marian Tredoux's favourite pastime, but as a geologist-cum-geochemist closely involved with continuing education and public outreach at UCT, it goes with the turf, so to speak.
A senior lecturer with CHED, Tredoux is one of several UCT academics who are part of a formal collaboration with the Iziko Museums of Cape Town's South African Museum, the South African Mineralogical Society and private collector David Spath to present Mineral Mania. Not only does this multi-faceted exhibition showcase some mineralogical household names (gold, zinc, copper, iron and the like), but it examines their value as refined products as well as their role in shaping societies throughout history.
The exhibition has run concurrently with Iziko Museums' Summer School. Tredoux, who is also the co-ordinator of the GeoTeach programme for schools, also presented a lecture on "Meteorites as Ore Sources". She comments: "Meteorites often contain iron in its metallic state, something that's rarely the case for rocks at the Earth's surface, because of our oxygen-rich atmosphere. The iron portions of meteorites are also the host sites for gold- and the platinum-group elements. I tried to make the case that the scientific information locked up in meteorites, the survivors, and our only samples of the very early solar system, are far more valuable than the metals they contain."
Later in the year a series of four field trips on historical geology and stratigraphy is planned where Tredoux will show participants how to gauge a mountain's history by examining its rocks. But one of her main contributions has been the mineral kit she developed for teachers, on loan from the Museum. Each contains samples of the three main rock groups; igneous, sedimentary and metamorphic rocks (hence the trips to the beach); as well as some common minerals.
The kits are important because the curriculum 2005 changes see earth science introduced to the science syllabus for grades 1 to 9 under the banner, The Earth and Beyond. "It's a new learning area and many teachers are unprepared," Tredoux added.
"The exhibition has provided an excellent platform to present mineral workshops for teachers. We also train them how to use the mineral kit in class as an introduction to rock types and to the chemical and physical properties of minerals."
While the exhibition shows the dependency of our technology on minerals and mining (for example the fluorite in the glass display case is linked to the source of fluoride powder used in toothpaste), the mineral exhibits are also linked with indigenous displays associating the raw material with indigenous metal production. For example, an iron ore sample is housed with an African chief's ceremonial iron blade.
Former UCT academic and palaeontologist Professor Anusuya Chinsamy-Turan is the Musuem's Director of Natural History Collections and a vigorous champion of multi-faceted "living, breathing" exhibitions that are rich resources for learning, exploration and discovery for the public. "The days of static displays are long gone," she said.
"Contributing ideas and material to the exhibition is an important part of UCT's outreach to society," said Dr Duncan Miller from the Department of Archaeology. "The main achievement has been the reflection of a formal agreement of reciprocity between UCT and the Museum, which is an important public education facility.
Miller also presented two lectures on Indigenous History of Non-Ferrous Metal Production at the Summer School. "Indigenous southern African metalworkers produced not only iron for utilitarian artefacts and jewellery, but also produced copper, gold and tin," he said. "For the past 1 500 years, copper has been used widely in jewellery and early in the second millennium AD, tin was used, alloyed with copper to make bronze."
Gold was also produced at this time, mainly for export through the East Coast trade route. "But it was also used for elite insignia and jewellery by powerful local rulers controlling the production centres feeding this trade.
"It's important to teach the students who visit the exhibitions that metals and minerals are not only used in modern technical artefacts, and to expose them to the archaeological component and their importance and purposes in history."
"Iron ore was also one of the first minerals mined in Africa. The recent findings of ochre, a form of iron ore, found at Blombos Cave in the Southern Cape recently (see Monday Paper Vol21#01) showed that ochre was used in powder form for colorants and cosmetic purposes 77 000 years ago. Iron was also used for ritual purposes. In traditional African society, material objects were seen differently. For example, iron was used to make iron hoes, valuable artefacts that were used for bride wealth, or lobola. This was woman-trading currency."
Note: 2002 is the International Year of Mountains and Monday Paper will be showcasing the research of several departments and academics in this area during the course of the year.
---
This work is licensed under a Creative Commons Attribution-NoDerivatives 4.0 International License.
Please view the republishing articles page for more information.
---