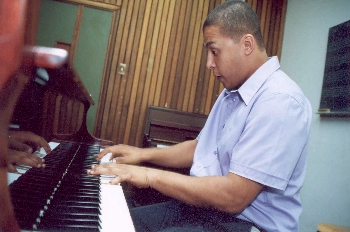 The key to the future: Piano student Francois Witbooi's decision to forego performance for administration will take him to New York's Columbia University in the US later this year.
HE MAY not originally have set out to become an administrator, but few would disagree with Francois Witbooi that a very generous scholarship to an "ivy league" university in the United States is a perfect launch pad to a change in career path.
Currently a Masters student in piano performance at the South African College of Music (SACM) at UCT, Witbooi last week received confirmation that he has been accepted by Columbia University in the State of New York for a Masters degree in arts administration, specialising in arts and media management.
His two-year sojourn in the US comes courtesy of a Fulbright Scholarship, which he received earlier this year and which will cover all his costs for his time there. Witbooi is one of only 10 non-American students accepted to Columbia each year.
Why the change in direction? "I think I'm just tired of seeing unemployed musicians in our country," he said pithily.
"I think opportunity is the problem, the opportunity to play. Which is why I'm going to the States, where they had the same problem about 15 to 20 years ago."
According to Witbooi, he made his decision to move into administration early last year. "If you think about it, piano players are not going to change the face of arts and culture in our country – I've accepted that.
"I think I'm looking at the greater good here. The thing is that nationally arts and culture has never been a department of its own – arts and culture does not have its own identity – and that needs to be changed."
Going to Columbia is a very special opportunity, Witbooi recognised.
"When I was in China last year, the South African ambassador there told me that if you go to Columbia people look at you thrice and not twice," he recalled.
Witbooi also credits the Director of the SACM, Associate Professor Franklin Larey, for his decision to go into administration.
"The first day I walked into his class he told me, 'you are going to study in America'. The problem is, he thought I was going to study piano."
---
This work is licensed under a Creative Commons Attribution-NoDerivatives 4.0 International License.
Please view the republishing articles page for more information.
---