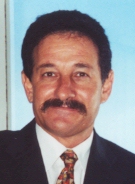 On a mission: New Executive Director of Properties and Service, John Critien, emphasises three principles: efficiencies, economies and effectiveness.
AS THE former Director of Administration at the University of Natal, John Critien is no stranger to university campuses. As the new Executive Director of Properties and Services, he bring 10 years' experience to his role at UCT, a job he describes as a "mirror image" of his responsibilities at UN.
"I'm delighted to be here and the position is a real fit for me although some elements will differ," he said during an interview with Monday Paper. His main objectives are to improve reactive maintenance around campus and to introduce a planned maintenance programme to UCT. "It's about reducing downtime and reducing inefficiencies," he added.
Importantly, he also plans to introduce service level agreements between the department and the UCT community. "We will provide a list of services and the level at which we will provide those services."
Environmental management is also high on his list of priorities. "Over 80% of our solid waste is fibre or paper based, which is ideal for recycling. We need to become more efficient about our recycling efforts." *
There are two large "brick and mortar" projects in the pipeline for Properties and Services: the revamp of the Chemical Engineering Building on North Lane, as well as the new Institute of Infectious Diseases and Molecular Medicine (IIDMM) facilities at the Medical School. In addition, Critien and his team will continue with plans to refurbish the Animal Unit.
Apart from providing a healthy environment, safety and security will also be improved around campus. "We've invested in CCTV equipment to ensure that our students and staff operate in a safe environment, given that UCT is an open campus," he added.
In terms of management style, Critien says he likes to focus on three principles: efficiencies, economies and effectiveness. "From a staff perspective, Properties and Services has undergone an upheaval following an intense outsourcing process. Now is the time to consolidate the department, realign our goals and do some real team building."
And if the university offers familiar territory, the Critien family, wife Pat and children Candice (17) and Sally (15), are still finding their way around Cape Town and its beaches (Critien is a keen surfer). Both daughters are settling at Wynberg Girls' High and apparently excel at maths and science and speech and drama, respectively. They sound like perfect material for UCT!
* UCT is a signatory to the Talloires Declaration and as such has agreed to practise sound institutional environmental management.
---
This work is licensed under a Creative Commons Attribution-NoDerivatives 4.0 International License.
Please view the republishing articles page for more information.
---