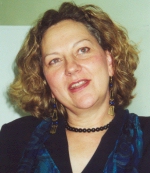 Redefining whiteness: Melissa Steyn is the author of Whiteness Just Isn't What It Used To Be, which examines white identity in a changing South Africa.
BEING white in South Africa has disturbed and perplexed UCT author and academic Melissa Steyn through much of her life.
As a "typical white South African" girl with a lineage dating back to her Dutch forebears in the 1600s, she was unsettled by vague but uncomfortable feelings of unearned privilege. As a young wife and mother in a rural area she was confronted by the harsh realities of the black/white divide in the lives of the black farm workers, and later, as an academic and writer, she has grappled with and explored the dichotomies and challenges of being white in South Africa today.
The experiences left her with a pivotal question: what does it mean to be "white" in an African country?
"For most South Africans the democratic elections of 1994 elicited a time of self- searching as they started to renegotiate their social positionalities," she said. Co-incidentally, two months after the election, Steyn left for the States as a Fulbright Scholar in intercultural studies at the Arizona State University. The timing and place were perfect. The encounter brought the realisation that "race" is not just skin-deep. "As an ideological construction, is generations deep and continents wide."
"Inevitably, physical and psychological distance from home brought about many shifts in my understanding. Reading post-colonial literature, particularly, and working on my thesis confronted my childhood conditioning in a sustained and in-depth manner."
This work became the foundation of her writing back in South Africa. In her new book,
Whiteness Just Isn't What It Used To Be: White Identity in a Changing South Africa
, Steyn brings the subject into full focus. This is not Steyn's first title; she co-edited
Cultural Synergy in South Africa: Weaving Strands of Africa and Europe
with Khanya Motshabi and is co-editing
The Prize and the Price: Reshaping Sexualities in the New South Africa
with Mikki van Zyl.
Her latest offering examines the conflicts expressed by ordinary white South Africans in casting off the old and reaching for the new. Their narratives, gathered from a wide-ranging sample, reveal the "frames' whites use to understand themselves.
The process of writing the book also mapped a painful personal journey. "I continue to struggle through the multiple fences of white identity that my heritage constructed to define me. But bits of flesh remain caught in the barbs. A white skin is not skin that can be shed without losing some blood."
Steyn comments that "whiteness" prevented her from believing in Africa and valuing African cultures. "For white South Africans the challenge is to redirect their energies from preserving their privilege to promoting development for the broader society."
"History has opened up a real moment of opportunity here for "whiteness" to turn itself around. White South Africans have a lot to give, but also a lot to learn."
The book will be launched at a function of the Institute for Intercultural and Diversity Studies, of which she is director.
"The challenge in terms of diversity is a complex one," she says. "But it is linked to the process of deepening democracy. The work of the Institute will be to nurture and foster an understanding of how we can do that."
(
Whiteness Just Isn't What it Used To Be
is published by the State University of New York Press as part of the SUNY series:
"INTERRUPTIONS: Border Testimony(ies) and Critical Discourse/s"
, edited by Henry A Giroux.)
---
This work is licensed under a Creative Commons Attribution-NoDerivatives 4.0 International License.
Please view the republishing articles page for more information.
---