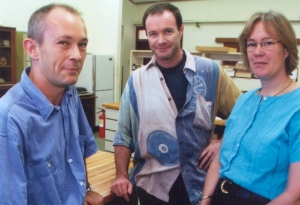 (from left): UCT's Dr Ian Watts, Royden Yates and Prof Judith Sealy are among those who are rewriting some long-held archaeological views based on evidence found at the Blombos Cave in the Southern Cape.
SOME extraordinary finds by a team of international scientists – including a healthy UCT contingent – at the Blombos Cave in the southern Cape have posed a serious challenge to prevailing thoughts on where and when modern human behaviour emerged.
Among the more than 8 000 pieces of ochre – a sort of iron ore – recovered by the researchers in the cave, two were especially significant. These are covered with patterns of crossing lines and may well be the world's oldest examples of abstract art, dating back more than 75 000 years, announced Dr Chris Henshilwood, a UCT graduate and former Research Associate, now based at the Iziko Museums of Cape Town and the leader of the Blombos Cave Project.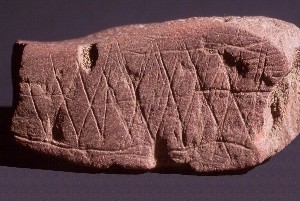 Stone age: one of the two pieces of engraved ochre from the Blombos Cave that have made archaeologists re-think earlier theories on the evolution of modern human behaviour.
According to a paper published by Henshilwood and his team in Science Magazine early this year, the engravings on the stones "support the emergence of modern human behaviour in Africa at least 35 000 years before the start of the Upper Palaeolithic". The Upper Palaeolithic period dates back to between 40 000 and 10 000 years ago, and was marked by the appearance of biologically, and behaviourally, modern populations in Europe.
UCT co-authors on the paper include Professor Judith Sealy of the Department of Archaeology, PhD candidate Royden Yates, and post-doctoral researcher Dr Ian Watts.
"The issue is when the modern human capacity for advanced behaviour first began," Sealy pointed out. "Advanced behaviour being the kind of flexible, problem-solving behaviour that enables us to think ahead and plan for the future, and the capacity to communicate with advanced language and symbolism."
"Anatomically modern" humans appear to have evolved in Africa by about 150 000 to 100 000 years ago, explained Sealy. Based on tools found in Africa and Europe from this and later periods, scientists have for some time believed that anatomical modernity preceded behavioural modernity. But what we've got from Blombos is a series of artefacts and remains that suggest that it's quite likely that people at 100 000 or 77 000 years ago were in fact behaviourally advanced." This means that behavioural modernity may in fact have coincided with anatomical modernity.
"The evidence comes partly from the stylistic qualities that are inherent in the stone tools and, perhaps most convincingly, from these two pieces of ochre," noted Sealy.
The patterns on the ochre are purposely made, she added. "It's a meaningful design. What we're inferring from it is that people at that stage had the capacity to signal something through the use of some other object. The question about the development of language is the point at which it stops being a purely functional thing and develops to a point where you can discuss abstract concepts like God or a dragon."
Post-doc Watts is studying the entire collection of ochre from the site, and coming up with some remarkable findings. Most ochre was probably used in powder form as a colorant and for cosmetic and ritual purposes.
Watts has found that people from this period were particularly interested in the red pieces – "the reddest reds" – which suggests that there was some kind of symbolism associated with the colour as well.
"And in conjunction with this design, that adds up to pretty strong evidence for some kind of meaning being associated with this ochre," said Sealy.
The findings of the Blombos Cave have not just made it into Science, but have also received media coverage around the world.
---
This work is licensed under a Creative Commons Attribution-NoDerivatives 4.0 International License.
Please view the republishing articles page for more information.
---