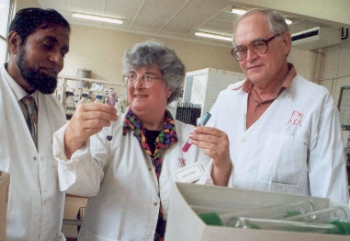 Up close and personal: Bangladeshi scientist Khorshed Alam learns a little more about Campylobacter characterisation from Elza le Roux and UCT's Assoc. Prof. Al Lastovica.
A RESEARCH stopover by a Bangladeshi scientist to the UCT Division of Medical Microbiology got off to a bad start when the visitor's baggage went missing in transit, and with it a valuable collection of samples set to be analysed by the UCT unit.
Khorshed Alam, a diagnostic medical microbiologist, recently travelled from the International Centre for Diarrhoeal Diseases Research in Bangladesh (ICDDR,B) to meet UCT's Associate Professor Al Lastovica and learn a little more of the latter's work on Campylobacter. These bacteria are recognised as the most common cause of gastroenteritis in humans, particularly among very young children.
Lastovica and Elza le Roux, a microbiologist at the Red Cross Children's Hospital, in 1990 developed the standard protocol – known as the Cape Town Protocol – for the isolation and detection of the various Campylobacter species associated with human infection.
Alam was here to collaborate on a number of research projects, and, more importantly, to familiarise himself with the Cape Town Protocol for use in his lab in Bangladesh. "Our protocol for isolating and characterising Campylobacter and related spcies associated with human disease is efficient, reliable and cheap," explained Lastovica.
Alam's mislaid luggage included numerous samples – antigenic extracts of Campylobacter – for serotyping, i.e. testing for recognisable antigens on the surface of the microorganism. UCT has one of only three laboratories in the world that can serotype Campylobacter.
"Serotyping is a labour intensive technique, but it's discriminatory and inexpensive," said Lastovica. "It is the only universally recognised typing system for Campylobacter, and allows direct comparison between laboratories," he added. "The technology that we've developed here in Cape Town will help the ECDDR,B improve their assessment of the disease burden of Campylobacter and related organisms in their population."
According to Alam, Campylobacter is very common among diarrhoeal patients in Bangladesh. The ICDDR,B had until recently confined its interests to the idenfication of the bacterium only, but decided to approach Lastovica to help kick off a collaborative research programme between the two institutions. There is a concern that the number of Campylobacter infections in Bangladesh is severely underestimated, Alam noted.
As for the missing samples, the wayward suitcase arrived in Cape Town two and a half weeks after its owner. Enough of the samples were usable to herald the start of a new research collaboration between UCT and the ICDDR,B .
---
This work is licensed under a Creative Commons Attribution-NoDerivatives 4.0 International License.
Please view the republishing articles page for more information.
---