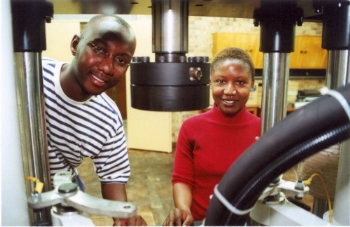 Material world: PhD students Rob Ochola and Miemie Nzula have done the Centre for Materials Engineering proud with their recent achievements.
TWO PhD materials engineering students have distinguished themselves by winning accolades and scholarships for their work on the effects of heat on materials.
Miemie Nzula will set off for the United Kingdom at the end of the year to take up a scholarship she has received from the Sinsbury/Linbury Trust. The grant covers her doctoral studies at UCT and a year at either Oxford, Bristol or Sheffield universities in the UK.
Nzula is currently doing research under Professor Candy Lang on low-solute platinum group metals (PGMs), which are mostly used in the production of jewellery.
She is looking specifically at how the properties of the PGMs change during a series of heat treatments.
Thus far she has found that there has been an increase in the hardness of the alloys after such heat applications, a useful attribute in the jewellery industry where metal is heated to make it pliable. "Basically I'm trying to find the mechanism that can account for that increase in hardness," she explained.
"I'm looking forward to spending the year in the UK, and learning as much as I can and then coming back and bringing back some new knowledge," she said.
In turn, UK-educated Rob Ochola won awards for best student paper and best overall presentation at the annual conference of the Microscopy Society of Southern Africa, held at Wits University. Ochola's winning paper was on
The effects of strain rate on polymer matrix composites
.
Supervised by Dr Kashif Marcus of the Centre for Materials Engineering and Professor Gerald Nurick of the Centre for Research in Computational and Applied Mechanics (CERECAM), he is working on carbon fibre composites (plastics) used in the manufacturing of, among other things, Formula One racing cars, golf clubs and tennis rackets.
Ochola is looking for possible alternatives to aluminium, and also trying to understand the strengths and properties of polymer composites and to see how they would, for example, react to impact or heat.
According to Nzula, who was part of a group of UCT students at the conference, such was the quality of Ochola's talk that the award was a shoo-in.
"I told him after his presentation, 'Rob, if you don't get that one, nobody else is going to get it'."
"We put a lot of work in, and this is a nice piece of immediate recognition," commented Ochola. "And nobody is short of gaining more confidence, and this really helps."
---
This work is licensed under a Creative Commons Attribution-NoDerivatives 4.0 International License.
Please view the republishing articles page for more information.
---