Star man: UCT alumnus, IT multi-millionaire and soon-to-be First African in Space, Mark Shuttleworth, will launch on April 26, 2002, as part of the Russian Soyuz crew bound for the International Space Station, a 10-day journey. (Photo courtesy of First African in Space website.)
TEN, NINE eight, seven, six – This week all eyes will be on UCT alumnus and IT billionaire Mark Shuttleworth, dubbed the "Afro-astronaut", as he begins his 10-day space sojourn after lift-off on Thursday (April 25, 2002), all going according to plan.
Shuttleworth will become the first African in space, a phrase that has given rise to the First African in Space website (
www.africaninspace.com
) that has tracked his cosmonaut's training schedule, progress and experiences at Star City near Moscow as he has prepared to journey to the International Space Station (ISS) as part of the Soyuz crew.
The intrepid entrepreneur has undergone some gruelling training during the past three months. Once the Soyuz crew members had finished studying the systems of the capsule in detail, they began a series of integrated simulation training runs. These involved detailed simulations of various procedures in the launch, orbital flight, docking at the ISS, undocking and the re-entry phases of the flight. According to the First African in Space website, the design of the Soyuz rocket and capsule, mainstay of the Russian manned programme, has operated virtually unaltered for 40 years! "To this day it operates without a modern computer on board." (And you thought you had a fear of flying!)
According to the website, the ISS is the first space station to have been built as an international collaboration involving 16 countries, the lead partners being the US and Russia, both of whom have manned launch capability. Shuttleworth is a member of the third Soyuz rotation crew that will ensure there is a new "lifeboat" attached to the station. He will fly the new lifeboat Soyuz to the ISS and return in the old one that is nearing the end of its certified flight time in space.
As the pace has increased, so too has it for the two UCT PhD exercise physiology students from the Human Biology Department, Lara Keytel and Karen Sharwood, who have designed several experiments for Shuttleworth to conduct during his flight. Both have been intimately involved in his programme for the past five months, travelling between Cape Town and Moscow.
Sharwood is in charge of monitoring Shuttleworth's health and fitness during pre-flight preparations and is the main investigator in the cardiovascular control experiment he will conduct in space. Latterly Shuttleworth has been undergoing the "intensive phase" of an eccentric muscle training programme to prevent muscle tears when the crew re-enter the atmosphere (there is no muscle loading in space).
Keytel is conducting research into the effect of micro gravity on the measurement of 24-hour energy expenditure, using the techniques of heart-rate monitoring and Doubly Labelled Water. Both scientists have been hard at work with the Department of Human Biology and Body IQ to set up a website that will show the results of their research.
Living and working with Shuttleworth has been a unique experience, says Keytel. She has been conducting her study in collaboration with the University of Maastricht in Holland, leaders in the technique of Doubly Labelled Water (this water, which Shuttleworth drinks, contains an isotope which allows Keytel to measure his energy expenditure).
Travelling with a portable gas analyser, all the callipers and equipment for her experiments as well as a treadmill and the very expensive Doubly Labelled Water samples (two 150 ml bottles, at about R18 000 each!), has been particularly stressful. "I have been travelling between these cities looking like a portable science laboratory!" she quipped.
For 10 days, Keytel spent every meal with Shuttleworth, documenting his food and calorie intake for her energy expenditure experiment. "He eats a lot of stir fry and pasta," she commented. For five days she collected his saliva on dental swabs for analysis in the laboratory.
According to Keytel, Shuttleworth is an impressive but normal "oke". "He's going about everything in the right way," she said. "He really wants to do this, but he's enjoying the experience. He's subjected to new experiences all the time, but maintains his sense of humour."
The experience has given both scientists a fascinating glimpse into the world of space travel. "We've met some legendary scientists, like Professor Legenov, who ran the laboratory when Yuri Gagarin became the first man in space. He's a living legend and is still running the laboratory at the age of 84!" said Keytel.
Though the UCT scientists have been boarding at Prophy II at Star City (Shuttleworth has been at Prophy I with the other cosmonauts), they will be based at mission control for the duration of the flight, which launches from Baikonur near Kazakhstan on April 25.
Once Shuttleworth returns to earth, Keytel will complete her sample preparation and return to South Africa, to prepare for the International Sailing Federation World Championships in Marseilles in July, and write up her PhD! Sharwood will remain in Russia for another two weeks to complete her post-testing, which will ascertain how much muscle strength Shuttleworth will have lost during the flight.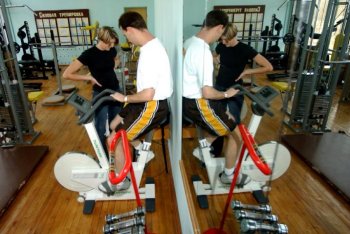 No pain, no gain. UCT PhD student Karen Sharwood checks Shuttleworth's performance as he prepares to become the first African in Space later this week. (Photo courtesy of First African in Space website.)
---
This work is licensed under a Creative Commons Attribution-NoDerivatives 4.0 International License.
Please view the republishing articles page for more information.
---