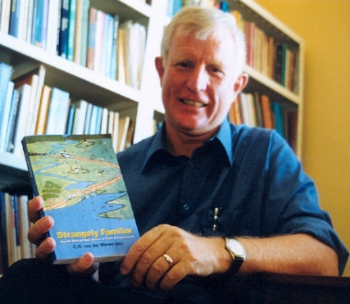 Joined at the nib: In his latest book, Strangely Familiar, Assoc. Prof. Chris van der Merwe explores the common themes of African and Afrikaans literatures.
ASSOCIATE Professor Chris van der Merwe's new book is not only unique for unveiling surprising similarities between Afrikaans and African literature in South Africa, but also for the unusual approach its publishers are taking for its release.
Not only will Strangely Familiar, of which Van der Merwe is the editor, be released in book form, but it will also be released on CD-ROM. In addition, publishers Content Lot.com will use new technology to print copies on demand.
All in keeping with a new approach the publishers wish to take with academic books, said Van der Merwe. "Academic books have a very hard time, but I think these two innovations could be very important to their future."
For Strangely Familiar, Van der Merwe, who is based in the Afrikaans and Netherlandic Studies Section, has called on a number of scholars to highlight the themes the two literary traditions have in common.
UCT's Associate Professors Russell Kaschula and Sizwe Satyo of the Department of Linguistics and Southern African Languages (LSAL), who covered Xhosa literature, feature among the book's contributors.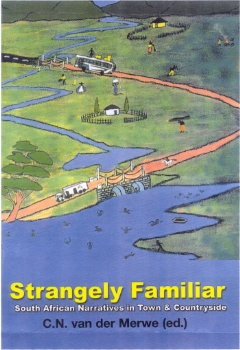 Other scholars include Professor David Coplan from Wits (Sotho) and Unisa's Professor CT Msimang (Zulu). Professor Christopher Saunders of the UCT Historical Studies Department also co-penned the introduction with Van der Merwe, helping to place the literatures in a historical context.
According to Van der Merwe, there still exists a sense of apartheid between the scholarships of the two literatures. He, however, became aware of the genres' shared features after attending a talk by Professor Tim Couzens of the University of Witwatersrand on black writing.
An area that was of special interest to Van der Merwe was the manner in which Afrikaans and African writers approached the tensions between country and city, and the trauma of moving from the former to the latter. "In Afrikaans we have 'the farm', which in the literature before the 1960s was filled with a sense of nostalgia," he indicated.
"But in the later literature, writers' criticisms of racism would very often focus on the farm. So the farm has never been neutral - it's, on the whole, either good or bad."
Oddly enough, the farm appears only in the writings of older Afrikaans authors, while it hardly makes into the pages of younger writers, Van der Merwe pointed out. The farm is also absent from English South African literature - JM Coetzee and Nadine Gordimer coming up with a few notable exceptions.
For both African and Afrikaner writers, the move from the country to the city also involved a change in value system, said Van der Merwe.
There were also certain events that affected both groups, albeit in a vastly different way. "So, for instance, the whole society - we now admit - was affected by the Anglo-Boer War, and the same with the border and liberation wars."
It was these and many other links between the two literatures that inspired him to compile Strangely Familiar, Van der Merwe noted. "I wanted to find common narratives," he said.
"I also wanted to indicate with the book's title that there is something strange about other people, but also something familiar. And, the most important thing I wanted to do was find a literary history that was not divided into little compartments, but one that was more inclusive."
---
This work is licensed under a Creative Commons Attribution-NoDerivatives 4.0 International License.
Please view the republishing articles page for more information.
---