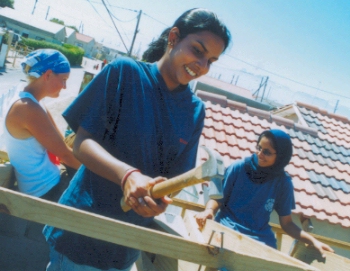 I'd rather be a hammer: UCT Habitat Club volunteers Keresha Naidoo (centre), Betony Adams (left) and Safiyyah Aboo are helping to build homes in Khayelitsha.
BUS problems notwithstanding, a group of nearly 80 students made their way to Khayelitsha on a Saturday morning in mid-March to help build new homes for residents in the township.
The students belong to the UCT Habitat Club, an affiliation of Habitat for Humanity International, a non-profit ecumenical Christian ministry that aims to "eliminate substandard housing" in South Africa and elsewhere in the world. The organisation, established in the United States in 1976, has been building homes in Khayelitsha since 2000.
Heading the UCT Habitat club – it is the only such student society in the country – is engineering student Dominique Pitot, who is in the process of securing official club status for the association of volunteers. With a committee of about 20 and a membership of more than 300, things are looking up for the group.
Every so often, the students are bussed out to Khayelitsha where they help contracted builders lay foundations, do a bit of roofing, paint and help out with all the many other tasks that make up the building of a house. Among the other events the club will take part in is the Jimmy Carter Work Project meeting in Durban in June, and an International Student Build from June 24-29.
For the latter, the UCT students will join up with their peers from Emery College in the United States, who have donated money towards the project, for work in Khayelitsha. Invitations will also be made to other students in the Western Cape, as well as those elsewhere in Africa, to join the two groups.
It is the warmth and gratitude of the people of Khayelitsha that make the calluses and cuts and knocks worthwhile, said committee member and business science student Catherine Barnes. "I'm just amazed at the community atmosphere."
"You're welcomed by these people who don't know you, they open their homes to you – you don't get that kind of welcome anywhere else," concurred Pitot. "People are really joyful – going out there, I get more out of it than I give to them."
There's also the thrill and satisfaction of seeing a completed house, added Pitot. "I can't describe the feeling – it's like 'wow, I've built a house'."
---
This work is licensed under a Creative Commons Attribution-NoDerivatives 4.0 International License.
Please view the republishing articles page for more information.
---