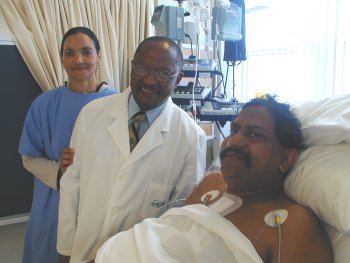 Heart to heart: Vice-Chancellor Prof Njabulo Ndebele (centre) visits heart transplant recipient Loganathan Naidu 12 hours after his heart transplant in the new UCT Medical Centre. Naidu's wife, Mercia, is on the left.
A FATHER of two who was admitted to hospital eight times last year in heart failure, received a new lease of life when he underwent a heart transplant in the new UCT Medical Centre (UCTMC) last Monday. The operation marked the first heart transplant to be done in UCTMC since the official opening on February 15, 2002.
Loganathan Roy Naidu from Port Elizabeth was very ill when he was brought to Cape Town two months ago to await a donor heart. He had been suffering from dilated cardiomyopathy, a condition where the heart muscle loses its elasticity and becomes significantly enlarged. This was diagnosed seven years ago but last year his heart function deteriorated further.
"It was only medication that kept me alive," Naidu said. "I had very little quality of life and knew that I would not survive much longer." To keep his spirits up, Naidu registered for a law degree, which he completed last year.
On Monday last week, he received a call from Associate Professor Johan Brink, Clinical Director, Cardiothoracic Surgery, to inform him that a possible donor heart had been received. Tests for compatibility were completed and the operation commenced at 18h30 on Monday evening.
"I woke up at around 04h00 on Tuesday morning," Naidu said. "I feel very well and have little pain. I am absolutely thrilled. I am going to the Transplant Olympic Games next year. UCTMC gave me a new lease of life. I am so happy!"
The Vice-Chancellor, Professor Njabulo Ndebele, visited the UCTMC on Tuesday morning and met Naidu, 12 hours following his heart transplant operation, during a tour of the facility.
The operation lasted four hours and was performed by Brink and Professor Peter Zilla, recently appointed to the Chris Barnard Chair of Cardiothoracic Surgery at UCT. Brink said that the operation had proceeded without difficulty and after four hours the patient had been transferred from the operating theatre to the UCTMC Intensive Care Unit. "He has subsequently made an uneventful recovery. He was transferred to a general ward after four days and is expected to be discharged 10 to 12 days following his transplant."
Asked what it was like to perform the transplant in the brand new, state-of-the-art facilities in UCTMC, Brink commented, "It is very encouraging for members of the Faculty of Health Sciences to have access to modern facilities in a very pleasant first-world environment. It offers members of our Faculty the opportunity to provide cost-effective healthcare to patients in ideal circumstances and we can offer all forms of treatment for cardiac disease, as well as other forms of surgery, in this new facility."
Zilla and Brink also added that the environment in UCTMC had stimulated their Division of Cardiothoracic Surgery to embark on a fundraising drive to up-grade and renovate their other facilities in Groote Schuur Hospital (GSH), to be able to offer the same modern facilities to public sector patients. "There has also been a recent announcement by the Chief Executive Officer of GSH, Dr Norman Maharaj, that the number of heart operations on public sector patients will also be increased, thus shortening the long list of patients awaiting heart surgery at the facility," Zilla added.
"Ongoing media and public interest in the possibility of offering heart surgery to British National Health Service patients in both UCTMC and GSH Hospital is another good reason to offer first world service and conditions to patients in an academic environment," said Zilla "This will go a long way to improve public perception about our academic hospitals as we will once again be able to offer excellent facilities to all our patients - a fine legacy to the world-renowned medical care available at our University and Academic Hospitals in Chris Barnard's era."
Brink added that it was important for the public to be aware of the "solid alliance" between UCTMC and both the Faculty of Health Sciences and GSH. "A strong public-private partnership has been forged which will allow individual medical staff members and Divisions within the Faculty of Health Sciences to provide a significantly improved service to all patients.
"This is vital to strengthen one of the three pillars of academic medicine, service to patients. The other two are research and teaching, for which the UCT Faculty of Health Sciences has an outstanding past and present reputation."
---
This work is licensed under a Creative Commons Attribution-NoDerivatives 4.0 International License.
Please view the republishing articles page for more information.
---