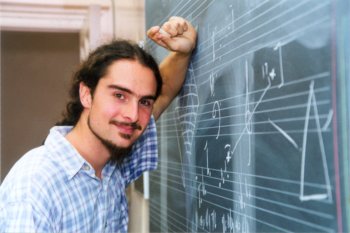 Music man: Christiaan van der Vyver has picked up a few musical tricks while studying at the Sydney Conservatorium of Music in Australia.
SOUTH African College of Music (SACM) graduate Christiaan van der Vyver returned to UCT recently for a short break from his studies at the Sydney Conservatorium of Music in Australia, where he has become an aficionado of a tuning system known as Just Intonation and, in addition, has designed and built a 140kg 66-key percussion instrument.
Van der Vyver earned himself a UCT postgraduate scholarship while still at the SACM, and left for the conservatorium in June 2000 hoping to work with renowned composer Peter Sculthorpe. To his disappointment, he found that Sculthorpe was in fact based with the University of Sydney, and as a result was at somewhat of a loss.
It was only after linking up with computer musician and electronic instrument builder Dr Greg Scheimer, that Van der Vyver was encouraged to explore the arcane complexities of Just Intonation. "I had been composing fairly traditional classical music influenced by non-Western music up till then," he recalls.
Just Intonation, Van der Vyver explains, goes far beyond the 12-tone Western musical system. "Basically, every single note that you play on the piano or any other instrument contains within it an infinite spectrum of notes, just like light consists of an infinite spectrum of colours. Those notes are there all the time. You can hear them if you know what to listen for."
With Just Intonation, more common in non-Western music, you have the option of choosing from those hidden notes, he adds.
Influenced by his studies with Scheimer and his performances with a Balinese percussion group, Gamelan, that he has joined in Australia, Van der Vyver has also designed and built a colourful diamond metallophone that brings out many of these latent notes. He based his design on the diamond marimba of the late American composer Harry Partch. Van der Vyver uses it for teaching Just Intonation, performances and for tuning purposes when rehearsing with orchestras or groups. "It's my piano," he notes.
---
This work is licensed under a Creative Commons Attribution-NoDerivatives 4.0 International License.
Please view the republishing articles page for more information.
---