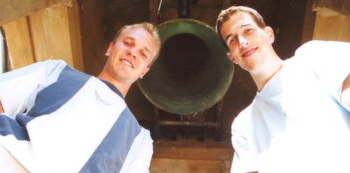 Sound as a bell: "J.P." Kloppers (left) and Mike Welham are part of the drive to restore the Smuts Hall bell and bell-tower.
AN AUDIBLE piece of UCT's history was recently restored to its rightful place after many years of neglect. Smuts Hall's bell, in storage for almost 30 years, was placed back into its tower earlier this year after three years of preparation and planning.
The half-ton bell's restoration was the idea of four "campanologists", Smuts Hall residents who in 1999 decided, after months of staring at an empty bell and clock tower, to take matters into their own hands.
Mike Welham, Stuart Liebenberg, Cameron McGregor and "JP" Kloppers are all engineering students and the driving force behind the bell and bell-tower's restoration. A "typical bunch of engineers", they climbed up to the tower to figure out what was not working. In fact, most afternoons in their first year were spent taking the clock and all the gadgets in the bell-tower apart.
"Taking it all down was quite hair-raising because we didn't have the correct tools and much of it had to be done balancing on Smuts' head!" said Kloppers enthusiastically.
Once they had figured out how everything worked they connected the power on the timing mechanism of the clock, which according to Kloppers "worked beautifully" for machinery that had not operated in over 30 years. But it would be another two years before everything was completed.
In 2000 the tower structure was reconstructed to accommodate the great weight of the bell. According to Kloppers, the bell was originally removed in the 1960s because it was too heavy for the tower's support columns.
"The tower's structure was too weak and the concrete was starting to crack and if it fell on someone it could do a serious amount of damage," he added.
Towards the end of 2001 the bell was returned to Smuts Hall and the project was injected with new life.
"It was feasible at that point to get everything moving, the clock working and the bell ringing, so the Smuts House Committee raised funds for the final restoration and I did the finishing touches: getting new motors, painting the clock faces, the list is endless."
Last month the bell tower and clock were inaugurated by the Vice-Chancellor, Professor Njabulo Ndebele, at a dinner held at Smuts Hall.
The dinner coincided with a visit that the Vice-Chancellor had scheduled as part of his campaign to visit campus residences.
The bell hangs in a tower on the roof of Smuts Halls' reception area and can now be heard tolling on the hour between 08h00 and 20h00.
---
This work is licensed under a Creative Commons Attribution-NoDerivatives 4.0 International License.
Please view the republishing articles page for more information.
---