When the COVID-19 pandemic hit South Africa's shores and the University of Cape Town (UCT) shut down all campuses and residences to comply with lockdown Level 5, first-year student Bukho Ndziweni was panic-stricken.
As he packed up his residence room in March 2020, just a few short weeks after he first set foot on campus to start his undergraduate degree in actuarial science, he had many questions racing through his mind. Upper most on the list were: Was it really necessary to shut residences as well? How long would lockdown last and when would he and other students be allowed to return? There was just no way his mother's two-bedroom shack in Philippi would accommodate emergency remote online teaching and learning – the environment was unsafe, and the network reception was patchy.
Bukho was overcome with anxiety. How would he navigate this new normal? Being a first-year university student is daunting enough. Add studying in a poorly lit shack in one of Cape Town's most dangerous communities to the mix – without face-to-face access to lecturers, mentors and fellow classmates – during a global health emergency, and you have a "mind-blowing, once in a lifetime scenario".
What transpired after campus shutdown was like something out of a horror movie – for South Africa and the rest of the world. And since then, life has thrown Bukho a list of curve balls. He became a victim of crime in 2020 and lost his father tragically in 2021. But despite it all, Bukho is finally at the finish line. He will join thousands of UCT graduands as they take to the stage in the Sarah Baartman Hall to receive their degrees this month.
"I am on the other side thanks to the spirit of ubuntu and perseverance; perseverance was key throughout this journey."
"The past few years have been hard. It's been one challenge after the other. But I am on the other side thanks to the spirit of ubuntu and perseverance; perseverance was key throughout this journey," he said.
A whirlwind, unexpected first year
Arriving at UCT in February 2020, Bukho was excited to start his studies. He was no stranger to hard work – as one of the top pupils at Intsebenziswano High School in Philippi, who matriculated with seven distinctions and was named one of the Western Cape's top achievers in 2019, he was ready to put shoulder to the wheel and set the foundation for a career in the field of actuarial science. He was determined to give it his best shot. But adapting from high school to university wasn't easy. Simple things like communicating effectively in English was challenging and adjusting to campus life took some getting used to as well.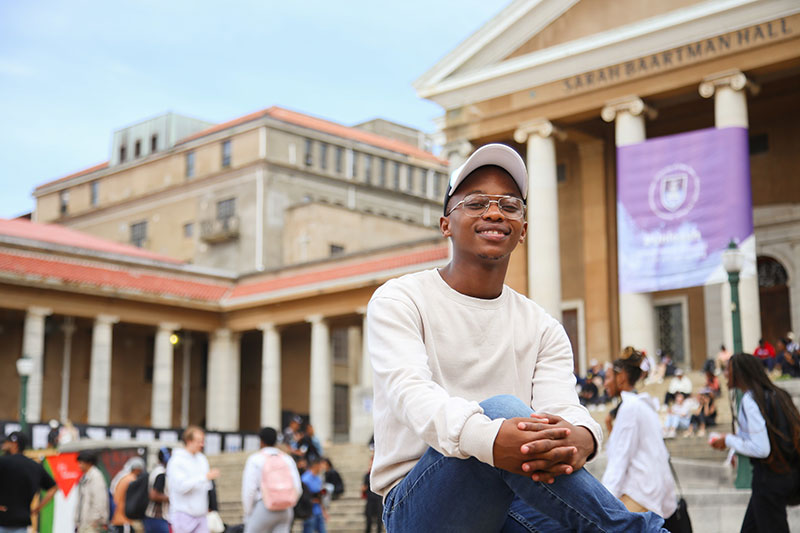 "I was so excited to study at the top university on the African continent, I turned down four other bursaries. Even though I experienced a few challenges in the beginning, they were not going to hold me back," he said.
But the COVID-19 pandemic turned everything upside down. As campus shut down and Bukho returned to his mom's home in crime-ridden Philippi, he knew that studying online would be virtually impossible. Sitting at his laptop for a few hours a day would make him a soft target for criminals in the community, and the intermittent network would make studying online frustrating. He desperately needed a back-up study plan.
Contingency plan
Bukho spent a large chunk of his two-week March holiday trying to come up with a plan that would accommodate his study schedule. Luckily, a pastor at a nearby church said he could use the facility to study during the day and complete tasks and assignments at night. And to ensure his safety, Bukho was allowed to sleep over, to minimise walking to and from the church late at night.
But on 4 June 2020 as Bukho lay sleeping on one of the pews, burglars gained access to the church via a window. They stole his laptop, a few items of clothing, as well as his tablet, which contained a sim card with data supplied by UCT during the height of the pandemic.
"I was traumatised and for a long time after the incident I would wake up thinking that someone was trying to break in and steal my things, or worse – to hurt me."
"It all happened so fast. I didn't see their faces, but it was definitely more than one guy. I was traumatised and for a long time after the incident I would wake up thinking that someone was trying to break in and steal my things, or worse – to hurt me," he said.
Philippi was too unsafe and Bukho felt that he needed to find alternative accommodation. After a few stops and starts, he moved in with his cousin in Dunoon near Milnerton. He felt somewhat safer there but studying online proved to be a huge challenge. The network connection was non-existent and Bukho was often forced to jump onto the roof of the house for better reception to download his course material. He was constantly stressed and worn out.
A domino effect
Bukho's living conditions affected his studies and his results during the first half of his first year were poor and not indicative of the A+ pupil he once used to be. After the burglary, he suffered from post-traumatic stress disorder and found it difficult to bounce back emotionally and academically. Desperate for help, he made an impassioned plea to his bursary funder for alternative, private accommodation.
"That was how I passed my first year. It was tough in Philippi and Dunoon but when my funder agreed to house me in a private accommodation, that changed everything for me, and I was back on track with my studies. It felt good to be able to breathe, to not look over my shoulder or to jump onto the roof for cell phone reception," he said.
When Bukho's second year rolled over, he was ready to jump in boots and all. But fate got in the way again. In 2021 his father was shot and killed in Johannesburg and his death took a massive toll on Bukho's mental health. He said he always yearned for a solid relationship with his dad and the news of his death meant that there was no time to nurture their relationship.
"My father's death really affected me. I spent the months thereafter just trying to cope with my studies and my emotions. I regret that I didn't try hard enough to build our relationship. I attended regular therapy sessions to help me work through everything. But my studies took a hard knock yet again," he said.
A difficult, but necessary decision
Bukho then made the tough decision to rethink his academic programme, and towards the end of his second year he dropped a mathematics module essential for his course. His course convenor and student advisors were against this decision, but he felt that it was necessary to protect his mental health. He had his eye on majoring in finance and economics instead, which he took up as an alternative degree after he passed his second year.
"During my studies, I felt demotivated often. There were so many things placed on my path that led to me feeling this way. But there comes a time when you just need to pick yourself up and move. My plan B was to always keep trying," he said. "And there's always someone out there whose situation is way worse than yours. We always have something to be grateful for. That's my mantra in life."
"As you go through challenges, remember your end goal; use your struggles to motivate you."
As he takes on his honours in economic analysis of financial markets, Bukho praised his funders and mentors for their unwavering support and for encouraging him to keep going, especially during moments when he was not strong enough to do so. When the going gets tough, Bukho reminded the current cohort of undergraduate students that challenges are inevitable but urged them to keep their end goals in mind.
"My end goal was always my family – to provide for them and to do well to ensure that they are taken care of. As you go through challenges, remember your end goal; use your struggles to motivate you. Also, remember that winners are losers who just kept trying," Bukho said.
---
This work is licensed under a Creative Commons Attribution-NoDerivatives 4.0 International License.
Please view the republishing articles page for more information.
---