When she became chancellor of the University of Cape Town (UCT) 20 years ago, Graça Machel presided over graduations in the Jameson Hall. After two terms in office, Machel is officiating at her last graduation season, but this time in the newly named Sarah Baartman Hall – a strong symbol of transformation over two decades.
December's 1 771 graduands will be capped at six graduation ceremonies on 12, 13 and 23 December. The first of these, at 10:00 on Thursday, 12 December, saw 260 graduands of the faculties of Law and Health Sciences capped.
In her congratulations, Vice-Chancellor Professor Mamokgethi Phakeng assured graduands of a bright future: "You are getting a degree from one of the best universities in the world and the best that Africa has to offer."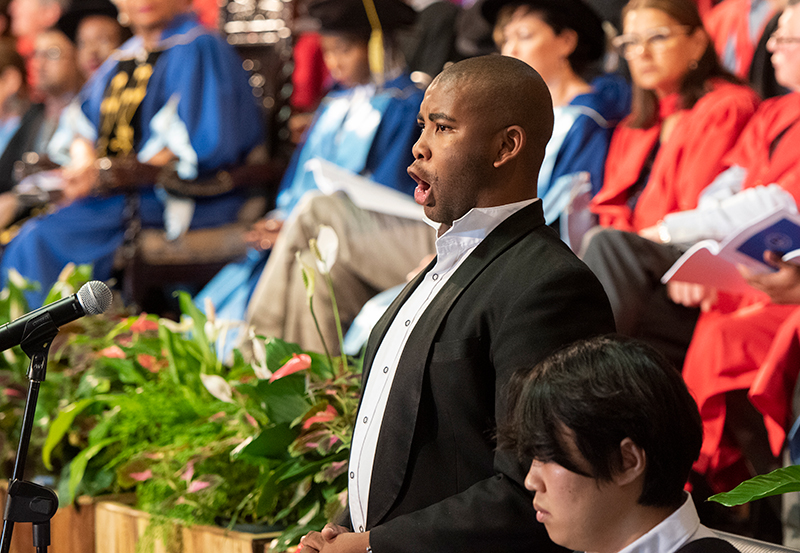 She said that as they stood at the edge of what they had achieved and what they would make of themselves in the years to come, they were not alone.
"Today we mark [another] moment of transition in the life of the university; we bid farewell to Mrs Graça Machel who has been chancellor of UCT for the past 20 years. We will say a fuller goodbye at this afternoon's graduation ceremony, but I want to say a few words now: thank you.
"You are getting a degree from one of the best universities in the world and the best that Africa has."
"You have been a faithful support to me and my predecessors. You have stood with UCT at our most vulnerable times as our mother, our elder and our conscience. You have shared our anger and our joy. You are a woman of action and by your example and your encouraging words, you have called us to be active in our transformation as a university and as a society.
"Thank you for inspiring us … to be proud of being African and to be leaders that change the world. It's been a great pleasure working with you."
Honorary doctorates
The graduations will also see UCT confer three honorary degrees: to renowned scholar Professor Jonathan Jansen, to world-leading biochemical engineer Dr Georges Belfort, and to leading scientist in molecular genetics and biochemistry Dr Marlene Belfort.
UCT Book Award and Creative Works Award
Other members of the UCT community who will be honoured are the joint recipients of the 2019 UCT Book Award, Professor Alphose Zingoni (Faculty of Engineering & the Built Environment) and Anna Tietze (Faculty of Humanities) as well as recipients of the 2019 Creative Works Award, shared by Clint Abraham (Faculty of Engineering & the Built Environment), Associate Professor Dizu Plaatjies and Dr Andrew Lilley (both of the Faculty of Humanities).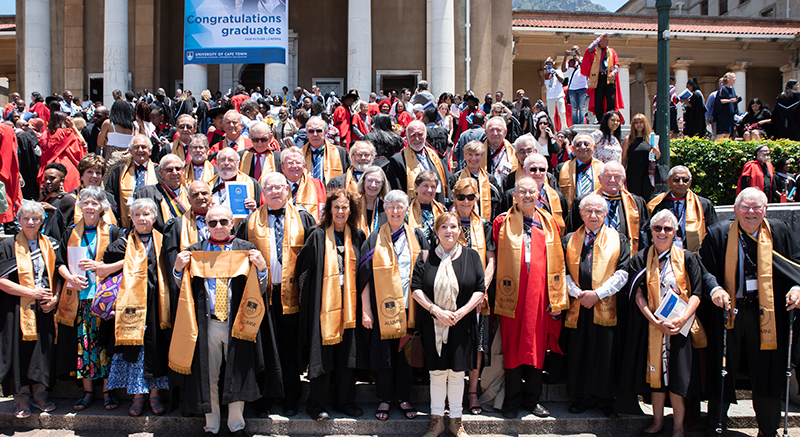 Curious with purpose
Guest speaker at the 10:00 ceremony was cardiac surgeon Professor Peter Zilla of the Chris Barnard Division of Cardiothoracic Surgery. He urged graduands to develop the life mantra, "curious with purpose".
"Graduation is a highlight we share all around the world … however, it comes with privileges and responsibility. One of the privileges is that higher education gives us the tools to be curious with purpose … And now society needs you to go out and ask questions with purpose."
He said higher education also prepared graduands for leadership. Leadership was not management, however, but rather ongoing curiosity, exploring uncharted territory and finding creative solutions.
"Life on purpose should be your governing principle," he said, referring to his hero, Dr Viktor Frankl, an Austrian neurologist and psychiatrist and a Holocaust survivor.
"His mantra stated that the detour through purpose is faster and more successful than the direct route. Let me assure you, your curiosity and purpose will make your life both colourful and meaningful."
Citing examples from his own life and pioneering work, Zilla said, "You are the leaders of tomorrow. Challenging circumstance can only break your spirit if you stop asking questions and if you stop believing that you can come up with creative answers."
---
This work is licensed under a Creative Commons Attribution-NoDerivatives 4.0 International License.
Please view the republishing articles page for more information.
---