Final-year social work student Lizanne Isaacs and her husband, Mark, are on a green mission: to cultivate the small patches of land at JP Duminy Court, a University of Cape Town (UCT) family residence, and use the bounty to feed students – bodies and minds.
"Taste this," Lizanne Isaacs says, pinching a sweet violet between her fingers and proffering it. It tastes vaguely spearminty. "You can throw that in your salads," she says, raising her voice over the cacophony of taxis playing tag along Mowbray main road. The leaves can be cooked or eaten raw – or dried and infused for tea – and the flowers can be candied too, she says.
Inside the grounds of JP Duminy Court, a University of Cape Town (UCT) family residence, Isaacs casts a tender eye over the burgeoning clumps of green: herbs, leafy vegetables and other edible plants, all mixed and matched to provide natural pest control, shared nutrients and protection.
The gardens are new and young; the Isaacs have been residents of "JP" only since January. But in these small patches between walls and walkways, roads and railings, she and her husband, Mark, have coaxed the ground to produce a diverse and mostly edible bounty.
Almost everything in the gardens is there to be eaten, Isaacs says, guiding the way through the narrow lawns and beds that surround the complex, which houses 42 students and their families. Even the shade plant she's training over a metal arch is a granadilla that will produce exotic waxy flowers (good for the soul) and dimple-skinned fruit (good for the body). The fence has been demarcated for runner beans. In between are tree stumps for seating.
"It was very dull here when we came [in January] . . . There was no colour. But we immediately saw the potential."
"It was very dull here when we came [in January]," said Isaacs. "There was no colour. But we immediately saw the potential."
Here are rows of pineapple and lemon sage plants and there a bay leaf tree. The leaves will be used in their pickling, says Isaacs. Morogo, or African spinach, has been planted along a back wall. And on this wall is a neat row of pots – mini nursery for spekboom cuttings from UCT's indigenous plantings.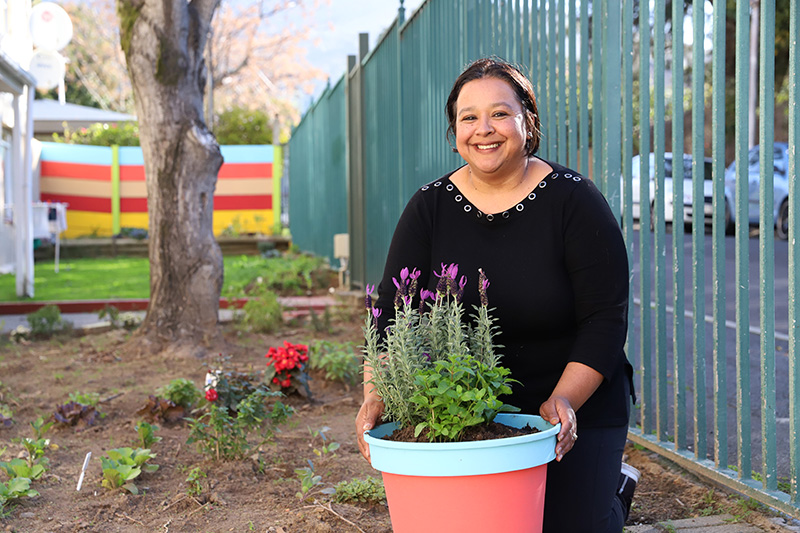 Biodiversity in the city
In another corner, clumps of arum lily are blooming in dark, damp soil. These provide shelter for tiny arum lily frogs.
"We want to bring biodiversity into JP, and since the gardens started it's really been picking up a lot," said Isaacs.
"Take a look at this," she beams. The palisade fence that separates JP from the main road is strung with cheerful flower boxes. Mark, her gardening partner, has painstakingly upcycled discarded asbestos guttering, sealed and painted sections in fruity acid shades: lime, lemon and watermelon; what he calls "feel-good colours".
"Now it's a feature," Lizanne explains proudly, adding, "but only for decorative flowers because of the asbestos."
The feel-good colours have been repeated along the kerb stones in the parking area.
Since they started the gardens, they've noticed an increase in birds, butterflies and insects; signs of an ecosystem that's doing well.
"It's just about getting together and being creative."
"It's just about getting together and being creative," said Isaacs.
Soil quality is also important.
"We are really about organic growing because we can control what we put into the soil. There are no pesticides. And we want to share the bounty. Students don't have to struggle to find food."
DIY compost
But there's more.
"Come and see the compost heap," Isaacs invites.
She ducks under the looping lines of washing, past the communal laundry to the back where Mark shovels the heap, an earthy, humusy smell rising on the steam. This is what feeds the gardens. They make their own; shop-bought is expensive. Mark rubs it between his fingers, lifts it to his nose, like a tea taster.
They have more plans for this spot. Isaacs is keen to establish a chicken run for fresh eggs. Mark is already two steps ahead, planning. There are old garages they can use for a mini fly-larvae farm to feed them, he says.
Self-sufficiency means a lot to the couple. Isaacs' academic home, the Department of Social Work, was the instigator of UCT's student feeding scheme, now handled by the Department of Student Affairs.
"It's about helping people tap into their own potential and understanding themselves," she said. "For years I've been in community development. My passion is people and helping people. There's many who are battling. We can help them with real skills to make their lives better. It's very rewarding to me to help people in their own development and there's no better way than the earth – it's willing to give back and we can teach people how to use it."
Bountiful nature
At one stage the family were reliant solely on the soil.
"I didn't have an income," Isaacs said, "but we had a lot of land, so we grew veggies and we lived off those and sold excess to the markets. So, this really resonates with me."
Because Issacs has a registered NGO, they also receive surpluses from Woolworths three times a week. There are fruit and vegetable baskets in front of their ground floor flat, the produce available to everyone at JP.
"We use this platform to provide students with additional vegetables, fruit and bread: French loaves and ciabattas, rolls and salads. We also support students at Forest Hill Residence.
"When the baskets are empty, we refill them."
"When the baskets are empty, we refill them."
Surplus is made available to homeless people passing by.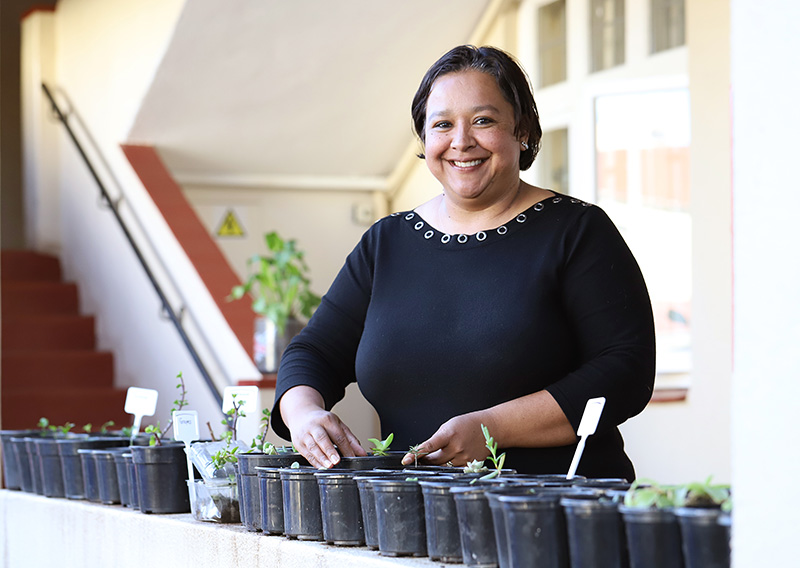 Between this bounty are bags of high-quality linen from a hotel chain: donations of 'previously cared for' sheets and pillow cases, duvet inners and pillows, also freely available to the students.
"They've all bought into this. They know they can come here and collect veggies at no cost; whatever's on the wall is there to be taken."
Properties and Services have also come on board to help, with senior horticulturist Noelene le Cordier providing planters and cuttings.
"We'd like to see this at all the residences," Isaacs said. "This is a pilot. "They [the students] don't need to go hungry. We can roll this project out at all the residences. Where we can't do small-scale farming, we can do indoor or vertical farming."
It's an all-round community labour of love. And even the JP children have their role.
"We get a lot of the children involved to do the planting. And we've appointed them as 'special agents' to look after the gardens."
---
This work is licensed under a Creative Commons Attribution-NoDerivatives 4.0 International License.
Please view the republishing articles page for more information.
---